Met gets new weather stations
26-March-2013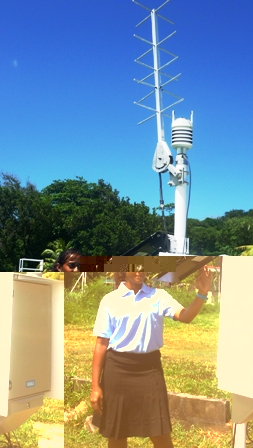 The director of Met services Vincent Amelie said this yesterday as the SNMS continued to mark the World Meteorological Day.
"Two of the stations have been donated by the World Meteorological Organisation and will add to four other stations funded by the Danish government under an adaptation programme for African countries," he told Nation.
"All these pieces of equipment are expected in the country in the next few weeks and will be installed on various places on Mahé and the inner islands including one on Aldabra."
He said at present Seychelles has a number of manual stations scattered around the country and readings are taken by voluntary observers, but these stations record only rainfall. It is only at the main meteorological station at the Seychelles international airport that other weather parameters apart rainfall are also measured.
"With installation of these new AWS, we will have sensors for temperature, pressure, wind, rainfall, humidity and radiation, beefing up the observation network across the country to increase monitoring and promote climate change adaptation. Apart the AWS there are six data loggers received from the UK meteorology late last year which are now being tested at the main met office before being deployed at different locations," he said.
"A data logger is an automatic rain gauge which transmits data every second via a wireless system. Apart from being automated this type of equipment permits the accessibility of rainfall data at any time especially during bad weather conditions and permits a faster response to warn the community of a disaster. This is a great advantage over the current network which are being read manually only once at 7am with information being passed over to us by telephone.
Technical officer Jean Paul Dodin and Rouma Agricole of the SNMS yesterday showed Nation two of the AWS at the South East Island near the airport.
The one Mr Dodin is photographed with was transmitting data by wireless means to computers on the island where he showed us real time readings which were uploaded on website www.wunderground.com where anybody around the world can access it.
Ms Agricole showed us another AWS which sends data to The European Organisation for the Exploitation of Meteorological Satellites (Eumetsat) which distributes the data worldwide.