Partners give input on future HIV and Aids laws
01-April-2013

Dr Gedeon addressing delegates at the workshop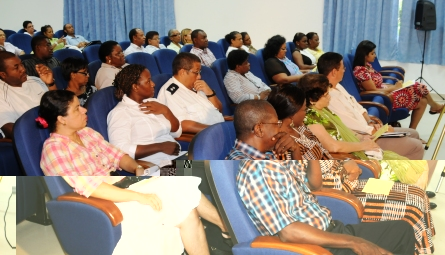 Present at the opening ceremony held at the Sheikh Khalifa diagnostic centre were acting principal secretary Dr Jude Gedeon, World Health Organisation liaison officer Dr Cornelia Atsyor, high officials from the Ministry of Health and other partners involved.
Since December last year, the government in partnership with the United Nations Development Programme has been undertaking a situational analysis of all laws, regulations and practices which undermine or support the delivery of HIV and Aids interventions at various levels.
This exercise was in line with the UNAids strategy getting to zero by 2015 and aligned with the Seychelles national HIV and Aids experiences and trends.
In his opening speech, Dr Gedeon said people affected by HIV often have to bear inequalities and all sorts of barriers promulgated in the country's rules, laws, policies, guidelines and regulations.
"On the brighter side there are also laws that create a conducive environment to access treatment, care and other services just like for anyone," he added.
The draft report on the legal environment assessment report, its key findings as well as recommendations were presented during the workshop.
Group work were organised so that those taking part were able to discuss on the report and recommendations and actions which need to be taken.
The workshop, led by national and international consultants, is aimed at providing recommendations on the legal proposals and actions that should be taken to strengthen the legal and regulatory environment of HIV and Aids in Seychelles.