Support group celebrates World Autism Day
04-April-2013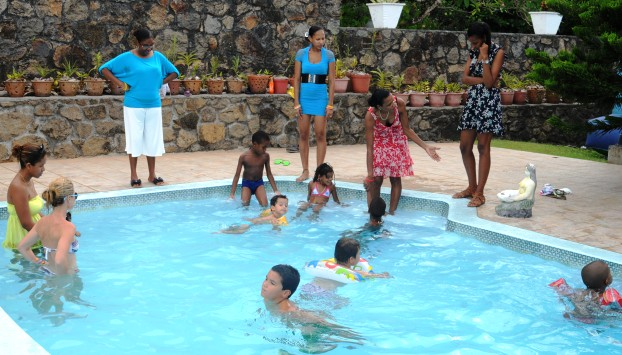 Organisers of the event, the newly formed non-governmental organisation called Pearl Seychelles gave the children a pool party complete with bouncy castle and plenty of snacks at the residence of one of the founding members of the organisation, Myrna Michel.
The condition known as autism is a neurological disorder that has an effect on normal brain function, affecting development of a child's communication and social interaction skills. The condition is a wide-spectrum disorder, which means that no two people with autism will have exactly the same symptoms. As well as experiencing varying combinations of symptoms, some people will have mild symptoms while others will have severe ones.
Chairperson of Pearl Seychelles Lynn Lavigne said the support group had been in existence for about two years before officially registering as an NGO.
"We were approached by the Seychelles Children's Foundation, since First Lady Natalie Michel is the patron for autism advocacy in Seychelles. We started meeting as a group of parents and then the next step was to create our own association."
"This kind of event helps the children to connect with each other. They sort of understand each other in this little group, so we would definitely like to do this more often."
Ms Lavigne explained that the support group existed as the next step to support parents after their children had been diagnosed with the wide-spectrum disorder.
"Some of the high-functioning children are able to go to mainstream schools, while others go to the School for the Exceptional Child. It is so important to note that the earlier we diagnose children, the sooner they are able to get the help they need in order to function well in society," she said.
"Most often, they have a problem with speech and communication, and these children need to get help through speech therapy."
Ms Lavigne said Pearl Seychelles would be working closely with the Ministry of Education and the Ministry of Health to spread awareness about the condition.
"As a support group, we are going to visit schools and start an awareness programme for teachers and children for them to understand that if there is one child in class who is a bit different, this child is special and deserves respect," she added.
"We have some materials that teachers and parents can use to help with their learning difficulties, as most of these children rely on visual learning. Once you put a picture to what you are saying, then they get it. When they have completed one step they can then move ahead to the next and continue to develop in their learning."
Ms Lavigne's own son, now seven, developed symptoms at the age of 18 months, and said that she noticed a change in him almost overnight.
"There was no eye contact, and up to the age of four, he was saying only five words."
Ms Lavigne took her son to Australia and he was diagnosed there and received special training to help her develop her son's capabilities. He now talks so much, she says, that it is a problem to get him to stop talking at times.
Ms Lavigne said that many parents often become disheartened by the enormity of the challenge presented by children with autism, but that the most important first step is to get their children diagnosed correctly.
"There are specialists at the English River health centre who will be able to assess the child medically and then seek help from Pearl Seychelles," she explained.
"Once you start the training it becomes easier. You can't give up; you just have to keep persisting. Because they do have a lot of ups and downs and issues, for example, with nutrition – they don't like the feeling and texture of certain foods, so they are often very limited as to what they will eat."