Health Minister Mitcy Larue's message on World Health Day-'High blood pressure can be prevented'
06-April-2013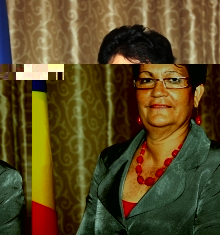 The minister's message reads:
"World Health Day 2013 is dedicated to 'High Blood Pressure'. This is an important topic that resonates with our population, as like most countries of the world high blood pressure is a common condition in Seychelles.
"The focus on high blood pressure for this year's World Health Day is aimed at further educating people about the need for everyone to have good knowledge on high blood pressure and how people can prevent or control it. With more than 9 million deaths attributed to high blood pressure worldwide, mainly heart diseases and strokes, high blood pressure is the first cause of preventable mortality in the world. High blood pressure is often called the silent killer as it often does not cause any symptom. Hence, many people do not know that they are affected with this problem and may not take appropriate treatment to control it. This is very unfortunate since high blood pressure can be both prevented by healthy lifestyles and controlled with medications.
"In Seychelles as many as 40% of the adult population has high blood pressure and it is therefore not surprising that heart attacks and strokes are leading causes of diseases and deaths in the country. I therefore, would like to call on all adult Seychellois to make every effort to know their blood pressure values and to understand what they mean.
"The control of high blood pressure is more often than not very simple. Adopting a lifestyle that minimises blood pressure, in particular, by reducing salt intake in their diet and by keeping a lean body weight is key in its control. It is also important to eat enough fruits and vegetables; avoid excess use of alcohol; and get regular exercise. Each of these measures can substantially help reduce blood pressure.
"For those people who have high blood pressure, medication is very effective but need to be taken every day and generally for life.
"Several measures have been taken to prevent and control high blood pressure in the Seychelles population. This includes free regular check-ups and provision of medications to all Seychellois people, opportunities to check blood pressure in health centres, screening programmes organised along numerous educational programmes for many years now.
"The Ministry of Health and other sectors in government are also committed to further create an enabling environment that is conducive to good health, in particular with regards to reduction of salt in our diet.
"Besides working with the food industry to reduce salt content in manufactured food items or prepared meals, it is most important that policies addressing fiscal measures are developed to create the right environment.
"It remains the responsibility of each one of us to consistently make good healthy choices. These are important when we address hypertension and other non-communicable disease risk factors. "Charity begins at home. This year, the Ministry of Health is organising several workshops spanning the month of April for its workers to reinforce and consolidate their knowledge on HBP and NCD in general. My ministry remains committed to work even harder with other agencies to educate people on all these lifestyle diseases.
"I take this opportunity on this special day to call on all sectors to commit time and effort to health promotion and disease prevention activities / interventions in their respective workplaces.
"I wish all Seychellois good health and call on the population to make a commitment to take better charge of their blood pressure and their health. I urge you to make a healthy choice, adopt a healthy lifestyle.
"Health workers day will also be celebrated on World Health Day, and I would like to wish all my staff a happy health workers' day.
"Health workers' day is a time to celebrate the contributions made by health workers in protecting, promoting and restoring the health of our people. It is also an opportunity to call attention to the commitment of workers and citizens in forming coalitions to build strong public healthcare systems.
"I would like to pay tribute to all health workers who continue to care for our population with devotion and commitment. Please accept my gratitude for all your hard work and your support in pushing our health agenda forward.
"Let us use this day to communicate to others the joy we get as health workers in caring for our citizens and let us celebrate the dignity and value of working in the health care."