Weightlifting: Open Championships-Mixed results for young and experienced lifters
09-April-2013
Some of the younger lifters improved their performances while seasoned athletes could not come anywhere near their personal or even Seychelles records, most probably because they were not a 100% prepared for the event.
In the female 58kg category, Romantha Larue, with a body weight of 53kg, added 12kg to her overall past best performance of 95kg achieved during last year's season-ending National Championship.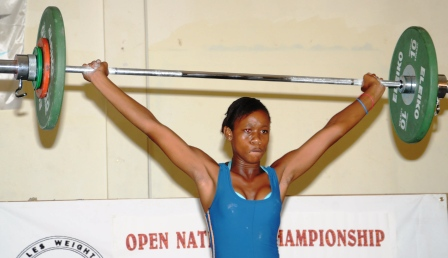 Larue, who turned 15 last Saturday, finished with an Olympic total of 107kg (47kg snatch and 60kg clean & jerk) to finish second to Clementina Agricole who was competing for the second time since October 2010 when she was operated on to remove a brain tumour at the G. B. Pant Hospital after she had completed her event at the Commonwealth Games in India.
After finishing with 140kg in total (60kg snatch and 80kg clean & jerk) late last year, Clementina Agricole continued to show improvement in her performances as she registered 65kg in snatch and 85kg in clean & jerk for an Olympic total of 150kg.
In the same 58kg weight category, Ruby Malvina did not rewrite the record books like she did during last December's National Championship when she replaced Janet Georges' 96kg clean & jerk mark with a 97kg effort in the 63kg class.
On Saturday, Malvina could only heave the barbell with a load of 65kg in the snatch event before failing her two attempts at 70kg. In three tries, she also could not lift 90kg in the clean & jerk.
Emerlyn Hertel, 13, competed for the first time and won the female 63kg division with a total of 90kg (45kg snatch and 45kg clean & jerk).
Clearly not in competition mood, Young Female Athlete of the Year 2011 Rena Agricole lifted 65kg in her first snatch attempt and twice failed to heave the 70kg weight over her head in the 69kg weight division. In the clean & jerk event, she failed all her three attempts at 80kg to finish with an Olympic total of 65kg.
In the male category, seasoned lifter and former Sportsman of the Year Terrence Dixie finished with an Olympic total of 267kg (122kg in snatch and 145kg in clean & jerk) in the 94kg category. Dixie, who failed his 128kg snatch attempt and 155kg clean & jerk tries, was way off his result of 280kg (125kg snatch and 155kg clean & jerk) achieved in the 85kg class of the National Championship in late 2012.
Dereck Côme, 17, won the 85kg category with 200kg (90kg snatch and 110kg clean & jerk), relegating Tony Ladouce, 14, into second position with 120kg (50kg snatch and 70kg in clean & jerk).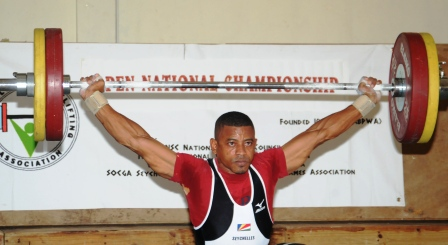 Rick Confiance, 18, improved on his National Championship results of 200kg, finishing with an Olympic total of 205kg (90kg in snatch and 115kg in clean & jerk), while Ian Rose snatched 105kg in his third attempt and clean & jerked 130kg before failing two attempts at 135kg to finish with an Olympic total of 235kg in the 69kg class.
The three-time Indian Ocean Island Games gold medallist bettered his National Championship performance of 220kg by 15 kg.

With barely one month training, Eric D'Unienville did not suffer from stage fright as he went onto the platform to compete for the first time in the 56kg category. The 16-year-old finished with 115 (55kg in snatch and 60kg in clean & jerk).
G. G.