Ile Persévérance phase II project to start this year
10-April-2013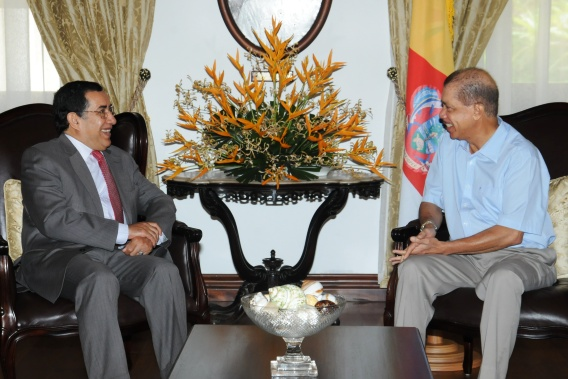 Comptroller general Patrick Payet said the cabinet of ministers has in principle approved the plans which will see roads, sewerage and electricity projects done this year ahead of construction of houses and business buildings later.
He said spending on the project has been budgeted for and related borrowing will be within the ceiling the government has agreed upon with the International Monetary Fund.
He was commenting after director-general Abdelaziz Khelef of the Arab Bank for Economic Development in Africa (Badea) said the bank is willing to help us with phase II of the reclaimed island's development.
In his budget address 2013, Minister Pierre Laporte of MFTI said the larger share of the government's total investment is for the housing and community sector for an amount of R3 billion.
"The Ile Persévérance housing projects and infrastructure investment will amount to R687 million and R476.8 million respectively and reflects government's commitment to develop Ile Persévérance including housing and business infrastructure. The other community housing projects will cost around R1.1 billion. Government has further committed R1.2 million per district for small community projects in 2013," he said.
In his interview he gave after calling on President James Michel at State House yesterday, Mr Khelef said Seychelles has made tremendous progress in just a few years.
Providence industrial estate for example was not long ago bare newly reclaimed land but a new town has sprouted.
He said in his talks with Mr Michel they reviewed the relations existing between the bank and Seychelles and expressed Badea's willingness to help Seychelles especially in recovering from weather-caused damage, particularly the recent flooding.
He said the bank and Seychelles authorities are looking to see what they can do to further develop small businesses especially for young people and to boost power supply to La Digue – where there have been major interruptions especially since electricity comes from Praslin-based generators through damage-prone cables.
The meeting at State House followed the signing the day before of a technical assistance agreement worth US $330,000 for disaster prevention between the Badea and the government of Seychelles. The agreement was signed by Vice-President Danny Faure and Mr Khelef.
President Michel said the technical assistance would be essential for the improvement of the country's drainage systems, in order to minimise the risks of flooding which Seychelles experienced this year as a result of tropical storm Felleng.
President Michel thanked the Badea for its support to Seychelles in the development of housing and infrastructure for Ile Persévérance, for educational facilities such as the Maritime Training Centre and the Seychelles Tourism Academy, as well as other Badea-funded projects.
The President and Mr Khelef also discussed possibilities for future projects in the fields of energy provision as well as infrastructure for small businesses and microfinance projects.