Vijay T-20 cricket league 2103 -Lakstars outplay Vijay 'B'
11-April-2013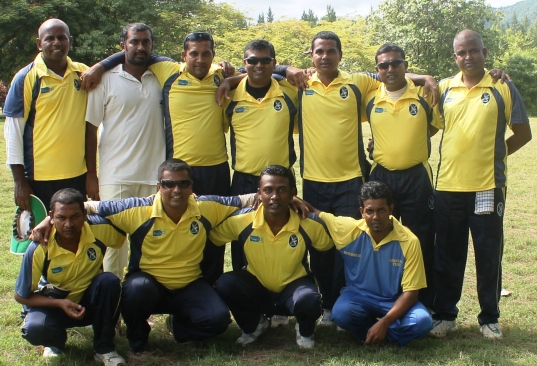 The only batsman who scored double digits is Balvindra, scoring 14 before Nadisha ran him out. All Lakstars bowlers did well, especially the trio of internationals – Dharma, Sohan and Janaka – who showed their class. They were very well supported by Sampath.
All the bowlers accounted in the wicket column, Janaka took 3, while Seychelles leggy Sohan and Sampath shared 4 wickets.
In reply, some very solid and sensible batting effort by Seychelles international wicket keeper Aruna took them home with 10 overs to spare. His opening partner, Seychelles international player Janaka, made run a ball 16 with the help of 3 boundaries before he was bowled by Ibharam.
Then Nilan joined Aruna and took Lakstars to a 9-wicket victory. Aruna remained unbeaten on 27 from 29 balls (5X4).
Summary: Vijay 'B' – 53 all out (Balvindra – 14, Janaka 3 for 6, Sampath 2 for 3, Sohan 2 for 17) lost to Lakstars – 54 for 1 in 10 overs(Aruna 27 Not Out , Janka 16)
Arctic Turn overcome Patel Youth's challenge in thriller
After winning the toss, Patel Youth lost their openers early before Hitesh and Paresh steadied their inning with a 40-run partnership.
Jaffer gave the breakthrough for Artic Turn by taking Hitesh's wicket. Paresh continued his aggressive approach and scored 35 runs from 26 balls with 2 sixes and 4 boundaries. Later he was bowled by Seychelles international pace man Rajiv.
Patel Youth were bowled out in 19th over for 123 runs, Paresh J and Vijesh chipped in with 13 and 14 respectively.
Hari was the most successful bowler for Arctic Turn taking 3 wickets and was supported by Rajiv and Vijesh with 2 wickets each.
Arctic Turn started their chase with the loss of three early wickets, Dharmesh and Divesh sharing the three wickets. Wicket keeper batman Sanjay Kunder counter-attacked with big blows, scoring 10 (1X6, 1X4) runs before he was trapped leg before in the bowling of Nitin.
Then Arctic Turn's most promising all-rounder Vijesh G came into the middle and took the chase on his shoulders with the support of Bhupesh. Vijesh G scored the first fifty of the tournament from 36 balls with the help of 8 boundaries and 2 sixes. From 34 for 7, Vijesh G took Artic Turn to victory.
Bhupesh made run a ball 19 and gave sensible support to Vijesh G by giving back the strike. The stand was broken by Dharmesh who took the wicket of Vijesh G.
Then Rajiv joined Bhupesh and saw them home without any further damage with 2 balls to spare.
Summary: Patel Youth – 123 all out (Paresh 35, Hithesh 17, Hari 3 for 21, Rajiv 2 for 21, Vijesh G 2 for 7) lost to Arctic Turn – 124 for 8 in 19.4 overs (Vijesh G 51, Bhupesh 19*, Dharmesh 3 for 24, Nitin 2 for 16)
HK for Seychelles Cricket Association