Holiday activities planned for 'problem children'
13-April-2013
This is being made possible as the organisation has recently received a cheque for R172, 000 from the Children's Fund for a project called 'Attending to and empowering children with behavioural problems'.
Some 50 kids are expected to benefit from the project. These are kids who have been suspended from school or whose parents have referred them to the organisation to receive help for their behavioural problems at home or in the community.
The Nou La Pour Ou organisation, which came into being only two years ago, was set up as a non-governmental organisation (NGO) to attend to the basic needs of the people, especially the most vulnerable categories.
In fact the organisation started these holiday activities with a group of pupils last year with financial help from the Liaison Unit of Non-governmental Organisations of Seychelles (Lungos).
"When kids are suspended from school we work with them during the period of suspension but we do not disrupt their studies to do so. Therefore, holiday times are the best to take them on different programmes which include counseling where we are better able to monitor their progress," Valerie Jumeau, one of the organisation's programme coordinators has said.
During the April holidays the organisation is putting together a special programme packed with different activities on Mahé for those children.
Ms Jumeau said activities on the programme include assessing their educational strengths and shortcomings, spiritual and living values sessions which focus on bringing about a change of behaviour, educational visits specifically to places where high level of discipline is the norm such as the Seychelles Coast Guard, the Fire & Rescue Service Agency among others. Group therapy with children and parents separately are also organised.
The programme for the August and December holidays include camping on Mahé and outside.
She noted that last year a group of pupils camped on La Digue and this year the Islands Development Company is sponsoring a camp for them on Silhouette, but as only a limited number of them can go there, another camp will be organised on Mahé.
Ms Jumeau added that the number of pupils referred to the organisation has increased considerably over the past few months, thus the need for more resources to keep the programme going.
She said while last year they worked with a group of 25 pupils aged nine to 16 years, the figure has from January to now more than doubled, with the youngest aged only six years.
She noted that most of the pupils come from single-parent families and they have either been suspended or have received several warnings which means at anytime they could be suspended.
Apart from the holiday activities, Nou La Pour Ou also organises counselling three times a week and Ms Jumeau said the considerable increase in cases referred to them is putting pressure on the services they offer and the organisation is calling for more volunteers who could help with counselling, therapy and providing other forms of support to the kids.
Other than the programme for kids, Nou La Pour Ou also carries out other activities identified as being top priority and these include feeding the hungry in the streets of Victoria, attending to single parents and neglected children and vulnerable people such as substance abusers and sex workers.
In order to successfully carry out these activities the organisation is grateful to the many sponsors who make available resources such as funding, clothing, food items among other necessities.
The accompanying photos show some of the past activities that such children have been engaged in.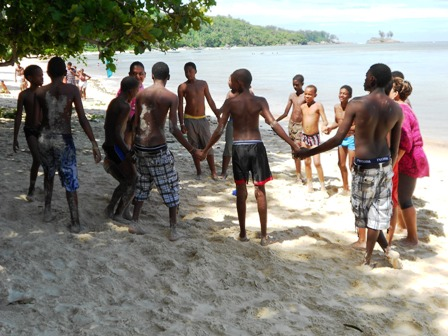 M-A.L.