En Moman avek Prezidan-President Michel marks nine years in office, speaks about achievements and challenges
13-April-2013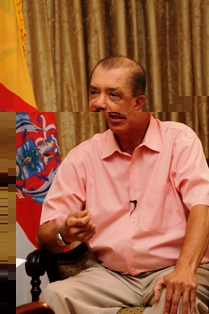 The programme will be aired on SBC TV tomorrow evening.
It was on April 14, 2004 that Mr Michel was sworn in as President to complete former President France Albert Rene's mandate after the latter had transferred the leadership of the country to him.
Following that, Mr Michel won two consecutive elections in 2006 and 2011.
President Michel has described the nine years as very 'eventful' during which the country has gone through a great transformation.
"A lot has happened during the nine years and there have been some very difficult times when as President I have had to take some difficult but well-calculated decisions. But the people rallied behind me during those difficult times. I would like at this point to salute the resilience and solidarity of our people which have helped greatly in overcoming our difficulties and challenges," President Michel said.
"It has not been easy but we have succeeded thanks to the unity and solidarity of our people who have worked together and I believe if as a people we maintain this unity and desire to continue to work together, we can face any difficulty and challenge, '' Mr Michel stressed.
Mr Michel said our economy went through some difficult times when the world was going through an unprecedented economic crisis.
"But we managed to navigate our way through and come out with some strong basis and with our partners continue to make progress and seek ways to better address the remaining challenges," said the President.
"We need to continue to work hard to preserve our gains and in order to succeed we need to stay united, put Seychelles first and be able to manage our expectations," continued the President.
President Michel also talked about the importance of foreign investment, the importance for our people to take ownership of the challenges our country faces, challenges in the education sector, the fight against drug and social ills among many other issues.