Young professionals inspire fellow youths
16-April-2013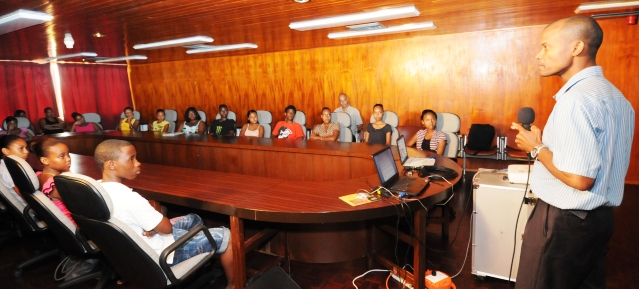 Steven Rose from the Seychelles Broadcasting Corporation was the first speaker at the first youth inspire youth session.
The second speaker was Anaël Bodwell, a student at the School of Business Management within the University of Seychelles and a part-time project officer at the Alliance of Solidarity For the Family.
The session was held on Saturday at the International Conference Centre and was attended by secondary and post-secondary students from the north and central regions of Mahé.
Present at the session were Seychelles National Youth Council chief executive Vicky Van der Westhuizen, director of programme development Patrick Nicette and youth workers.
The session was aimed at motivating youths through real life experience of successful young professionals and familiarise them with various opportunities available in the country.
The Youth Inspire Youth programme was officially launched on March 2, 2013 during a ceremony to mark the SNYC's 15th anniversary.
Mrs Van der Westhuizen said the youth inspire youth session will be held twice a month in different regions on Mahé, Praslin and La Digue, with the aim of reaching the maximum number of young people.
Both presenters talked about their education background, their achievements and challenges in life and what they have done to be able to attain their goals.
Mr Rose said determination and perseverance, honesty and having a vision in life have all helped him to reach where he is today.
He called on the young people to take their studies seriously, to have ambitions and determination, to love themselves and to help fight against social ills instead of becoming a victim.
Miss Bodwell said tough life experiences have helped her to become more mature and have motivated her in setting her priorities and in attaining them.
She urged the youths to always have a vision in life and not to become discouraged through life's challenges.
She also encouraged the young people to join groups which will impact their lives positively and to help make a difference in the lives of others, but not to neglect their studies in the process.
The two speakers then answered questions from their audience.