New book to commemorate centenary of State House
20-April-2013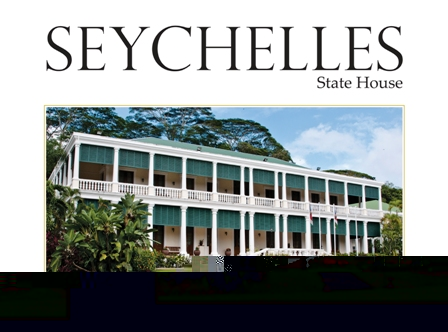 Tourism and Culture Minister Alain St Ange has collaborated with writer and chief Seychelles Tourism Board (STB) copywriter and consultant Glynn Burridge to produce the book.
Designed by STB's graphics designer Olivia Alvis, the book takes the reader on a pictorial journey from the very early days of Government House.
The elegant 84-page production traces the country's historical links with the first French and British administrators of Seychelles in the colonial era, and continues into the modern period when State House became the residence and focal point for the administration of a line of governors right up to recent times and the presidencies of Sir James Richard Mancham, France Albert René and James Alix Michel.
In the production, which is currently being printed, a suite of images depicts various aspects of the history, evolution and architecture of the foremost office of the land. It is complemented by a history of the building and its status over a 100-year period as a barometer of political and social changes in the islands and witness to their colourful history.
"The documentation of the history of State House is important for the history of our nation as it catalogues the evolution of the politics, of the society and even of the way of life of Seychelles through the prism of this important building," says Minister St Ange.
"Great care has been taken to select the images which best portray the changes that have occurred since State House was first inaugurated 100 years ago, and also the renovation works that have taken place," adds Minister St Ange.
On May 6, the day marking the 100-year inauguration of the highest office of the land, the first copies of the commemorative edition of the coffee table book is expected to be presented to President James Michel at State House.
In 2011, State House celebrated the 100th anniversary of the start of its construction (in 1911), where a series of open days were organised as well as activities to commemorate this event such as the launch of a commemorative stamp as well as an artists' day for local artists.
The building was completed in 1913 when its inauguration took place, and the new book on this national monument will conclude the 100th anniversary activities.