Young people gather to share ideas in 'Meet and Greet' session
22-April-2013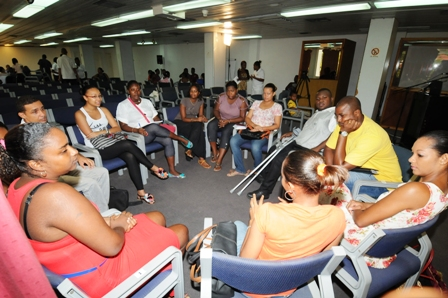 The aim of the event – which kicked off last year – is to have young people share their ideas about various topics related to other young people of the country.
Saturday's meeting was the first of the three meetings held each year, and the most prominent topic discussed was how to inspire other young people in society.
Vulnerable and target groups in society was also discussed and how to better address their needs.
Venues where to meet young people to pass on information was also talked about, as well as which type of groups among young people need more attention and monitoring.
The meeting was in group session format and at the end of the half-day workshop, the ideas were collected and handed over to the SNYC for processing.
Speaking to Seychelles Nation, the SNYC chief executive Vicky Van Der Westhuizen said that after each forum they compile the information and classify them into various projects that need to be implemented.
"Meet and Greet is the event where we want the youth to be our pool of mentors and go deliver and implement our programmes among the youth. Out of the three forums last year we managed to launch four new programmes for the youth, which includes the Youth Inspire Youth programme," she said.
"We have only three such sessions per year, so that we get enough time to process and compile the information we get and outline them in proper programmes, and present them to the youth in our next meeting and also inform them on how much has been done on previous meetings."