Surveyors seek to boost working links and service delivery
25-April-2013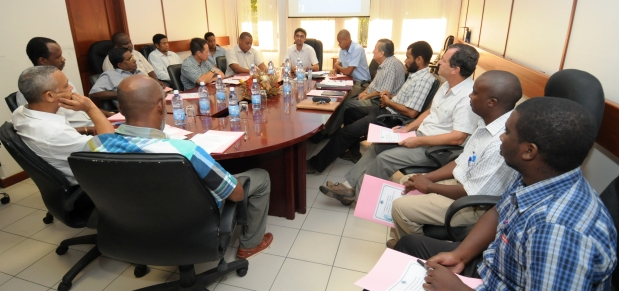 They were also apprised of major reviews being undertaken by the Survey Division.
Organised by the Ministry of Land Use and Housing in collaboration with the Land Surveyors' Board, the discussion session is an initiative of the current Survey Division director and chairperson of the Land Surveyors' Board Denis Barbe.
The principal secretary for Land Use and Housing Yves Choppy launched the discussion which was also attended by the chief executive of the Planning Authority Gerard Hoareau, who is also a surveyor by profession.
Mr Choppy commended the initiative to engage practicing surveyors in dialogue.
"A survey is the first among other very important components that is considered when planning a development," said Mr Choppy.
Mr Choppy added that getting surveyors together in an open forum to discuss aspects of their profession is an excellent opportunity to get their input as well as get them to be more engaged in and be part of development.
"I hope it will be a great opportunity for you to discuss ways to enhance the quality of the services you provide to the public," said Mr Choppy.
There are at present 16 licenced surveyors in the country. The Survey Division accounts for three, while three others are working under their supervision.
Expressing satisfaction with the turnout for this first discussion forum, Mr Barbe said it is expected that the surveyors will take the opportunity to voice all their concerns and discuss issues like pricing, survey infrastructure, private sector partnership.
Noting that there is a great need for more young professionals to make a career in surveying, Mr Barbe said seeking ways to attract young people in the profession was also expected to be discussed.