More donations for the national disaster relief fund
26-April-2013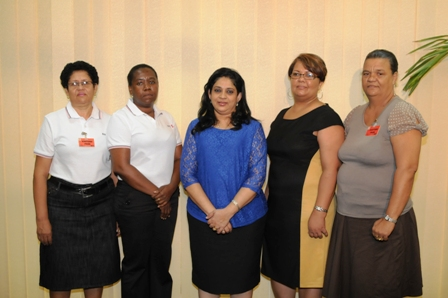 Collette Servina, a member of the fund and secretary general of the Red Cross Society of Seychelles, was also in attendance.
Two representatives from STC, Dorina Elizabeth and Manette Pillay, presented a cheque for R500,000 on behalf of their company, while Alise Nourrice presented a cheque for R2,000 contributed by staff of the DPA.
Accepting the donations and expressing her thanks, Mrs Nair said three months after the disaster it is with profound gratitude that the fund accepts these two donations.
"However big or small, all donations are very much welcomed and appreciated,'' said Mrs Nair.
She noted that so far the fund has collected R44 million from donations and has already spent R16 million. Another R4 million in terms of request was to be discussed and considered at the fund's board meeting later yesterday.
Mrs Nair further noted that the fund is also helping the Ministry of Land Use and Housing with a sum of R10 million for repairs on affected houses and the Ministry of Home Affairs and Transport with another R10m for drainage projects.
While the STC contribution is a gesture made by the company to the fund as Ms Elizabeth explained,
the contribution from the DPA is an initiative of staff members who have also kind-heartedly personally helped a colleague who was affected by the disaster – both financially and in kind.
"The staff responded very positively,'' added Mrs Nourrice.
She further pointed out that members of staff have also generously contributed various items in kind which the organisation intends to hand over to the Red Cross Society of Seychelles in due course.