South America – a growing tourism market for Seychelles
04-May-2013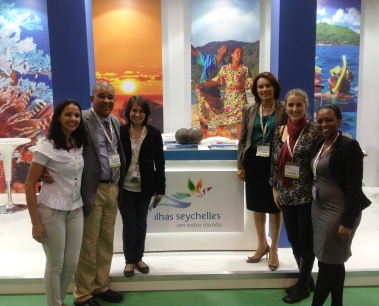 A Seychelles Tourism Board (STB) delegation who took part in the World Travel Market (WTM) Latin America Exhibition in the Brazilian city of Sao Paolo from April 23-25 is very optimistic that visitor arrival from this part of the world, especially Brazil, will grow at a faster rate than initially envisaged.
The delegation, which included STB's chief executive Elsia Grandcourt and David Germain, the STB director for Africa and the Americas, was among 1,230 exhibitors at the annual exhibition which promotes Latin America to the world.
"The Brazilian travel trade is confident that Seychelles can be the new exotic destination for the Brazilian traveller," said Mr Germain on his return home.
"The meetings went well with the trade partners from Brazil and the region," he added.
Mr Germain said the volume of long-haul vacationers and first-time visitors is increasing in Brazil and Seychelles has the potential to tap into the strong Brazilian market.

According to Mr Germain, Seychelles is set to be a "choice" holiday destination for shrewd Brazilian vacationers.
Seychelles is well-placed to tap the Brazilian market, with its airline partners – Qatar Airways, Emirates Airlines, Ethiopian Airlines, South African Airways (SAA) and Etihad – operating daily direct flights to Brazil from their hubs, giving easy access to Mahé.
An interesting development that occurred during the WTM-Latin America tourism trade fair was the announcement of the code-sharing agreement between Air Seychelles and SAA. The code-sharing means that travellers from Latin America can fly SAA to Johannesburg and from there connect with Air Seychelles flights to Seychelles.
It also allows passengers from Seychelles to purchase airline tickets in Victoria to fly to any destination operated by SAA.
During the exhibition, Ms Grandcourt also announced the appointment of GVA-Global Vision Access, based in Sao Paolo, as its official representation company in Brazil and Latin America.
The appointment confirms Seychelles' interest in the Latin American tourism market.
Global Vision Access is a well-established tourism representation company in Brazil, specialising in destination marketing and public relations activities.
It will support, promote and help the travel trade and media in South America will all inquiries about Seychelles.
The company will act as STB's office in Brazil and Latin America.
Commenting on the appointment, Mr Germain said: "The STB has decided to play a more active role in Brazil – a market with tremendous potential for Seychelles. We have reached a stage where we need to be closer to our trade partners we work with in South America, so as to ensure continuous visibility of the islands in that part of the world."
The Seychellois delegation at the Sao Paolo exhibition also comprised STB's marketing executive Myra Fanchette and representatives of four tourism operators interested in developing the South American market.
They are Daniella Payet-Alis from Seychelles Connect, Doreen Bradburn and Francesca Bonnelame from 7˚ South and Eric Renard of Creole Travel Services.