President Michel apprised of new football developments
04-May-2013
President Michel received a copy of the Seychelles Football Federation (SFF) strategic plan from new chairman Elvis Chetty yesterday afternoon at State House. SFF secretary general Jemmy Adela was also present.
It was Mr Chetty's first meeting with President Michel since taking over as local football boss in December last year.
"It was an honour for me to meet the President and I've presented him copies of the new four-year strategic plan and the documents containing our future plans – development of beach football, futsal, and the creation of four centres to develop football academies," said Mr Chetty.
He noted that the SFF plans to build a futsal arena at Roche Caïman and work is to begin before the end of the year or early 2014. A beach football stadium is also in the pipeline.
All these projects will be financed by the SFF, the Fédération internationale de Football Association (Fifa) and the Confederation of African Football (Caf). The Seychelles government will provide the SFF with the land where the projects will come out of grounds.
Mr Chetty said he was happy to meet former French international midfielder Patrick Vieira at State House and welcomed him to Seychelles.
"He has asked us about our plans to develop football here and I am very happy he has been able to come here to work with our youths. My message for the youths who will be taking part in the coaching clinics is work hard on the field and earn your ticket to visit the Etihad Stadium," said Mr Chetty.

Mr Chetty is the fourth SFF chairman to be elected after Joel De Commarmond (2012), Suketu Patel (1980-1991 and 1994-2011) and Finley Racombo (1991-1994).
Before calling on President Michel, Mr Chetty and Air Seychelles chief financial officer Shelley Cole welcomed Mr Vieira to Seychelles.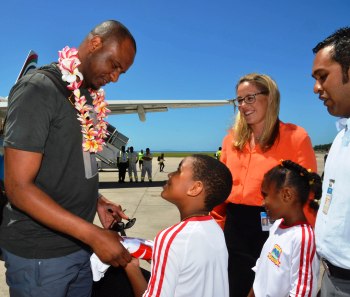 Air Seychelles chief executive Cramer Ball said: "I am delighted to welcome this group of sporting elite to our archipelago.

I know that they will not only fall in love with the beauty of the islands, but also the charm of the Seychellois people. We at Air Seychelles are excited to kick off the events tomorrow (today), though none are more excited than the youngsters of Seychelles."