Manchester City Seychelles soccer school reception-Successful evening celebrates new chapter in Seychelles football
06-May-2013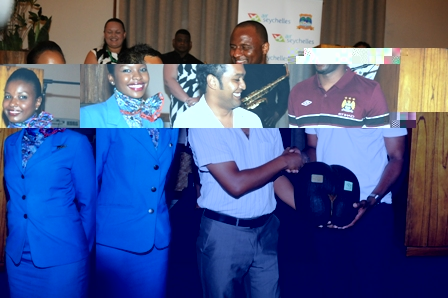 Former star player Patrick Vieira was the guest of honour for the event attended by court of appeal president Francis Macgregor, Social Affairs, Community Development and Sports Minister Vincent Meriton, Education Minister Macsuzy Mondon, Tourism and Culture Minister Alain St Ange, Air Seychelles chief executive Cramer Ball, Seychelles Football Federation (SFF) chairman Elvis Chetty among a host of invitees.
Mr Vieira is here to help run the Manchester City Seychelles soccer school coaching clinics and is accompanied by four coaches.
In his opening address, SFF chairman Chetty quoted famous Liverpool manager Bill Shankly who once said that "some people believe football is a matter of life and death, I am very disappointed with that attitude. I can assure you it is much, much more important than that".
Mr Chetty said he believes football transcends all boundaries including sex, race and colour. He spoke of his appreciation for the work done by Air Seychelles chief executive Cramer Ball and his staff and also thanked the Manchester City Football Club (MCFC) delegates for making this programme a success.
Mr Chetty then presented MCFC football development executive, Mr Vieira with a coco-de-mer as a token of appreciation.
Mr Ball stated that this was a proud moment as it signals the beginning of a strong partnership between the MCFC and the SFF and said he hopes this will help in football development in Seychelles.
He also presented Mr Vieira with a replica of a historical vessel which used to sail the Seychelles waters.
Minister Meriton gave the guests a narrative flashback of Seychelles football's highest moment when the country's won the elusive gold medal at the Indian Ocean Island Games in 2011 at Stad Linite on home soil.
He said this opportunity – the Manchester City Seychelles soccer school programme – has given Seychelles the chance to explore the prospect of sports tourism.
He also stressed on the importance of this programme as a means of motivating and preventing self-indulgence in harmful behaviour by our youths and expressed his sentiment that similar partnership can be created in the future.
With local artist Jean Quatre entertaining on the night, Minister Meriton informed the delegates that they will be receiving copies of his latest CD.
Mr Vieira presented Minster Meriton, Mr Ball and Mr Chetty each with a Manchester City shirt before saying he was impressed with the hospitality and kindness of the Seychellois people.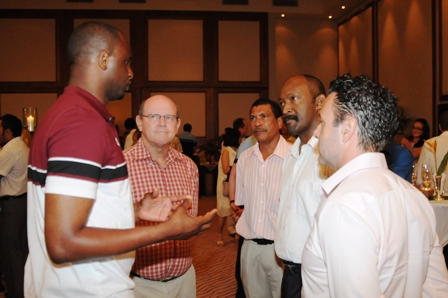 Talking about the football clinics held during the day (Saturday), he said he saw a bit of himself as he watched the enthusiastic children. He reminded the guests that they all have a responsibility to continue helping in the progression of these children.
Winner of a contest held on the local radio, Yannick Roucou was also presented with his prize – a Manchester City shirt – which Mr Vieira autographed.
The highlight of the evening was probably when Education Minister Mondon won a Manchester City shirt autographed by the entire Manchester City first team, after her name was picked in the lottery held on the night.
S. N.