Masai dancers to perform during FetAfrik 2013
09-May-2013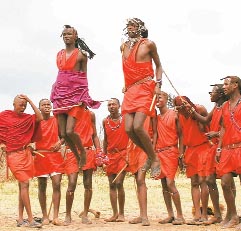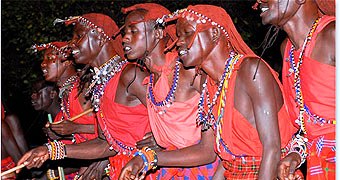 Bomas of Kenya Masai dancers will be performing here for the FetAfrik 2013

The Bomas of Kenya Masai dancers are one the well-known cultural groups of Kenya's diverse culture.
Familiar and known to the western world for their jumping dance, the Bomas Masai folklore dance will surely brighten up the festival and showcase Kenya's authentic and rich culture in FetAfrik 2013.
Seychellois and visitors alike are sure to enjoy a true experience of Masai's cultural values and their history during the forthcoming Africa Day FetAfrik celebrations in Seychelles.
The Kenyan Masai group is set to arrive here on May 23 in time for the official opening ceremony of FetAfrik 2013.
The Bomas of Kenya Masai dancers will stage a number of performances during their short stay in Seychelles. Dressed in their traditional attire, and chanting and carrying spears, the proud Masai of Bomas folklore troupe will stage its jumping and bridal dances to help give a special feeling to FetAfrik 2013.
Often portrayed as brave warriors, the tall and athletic men armed with a spear would in the past raid for cattle and kill lions, consume raw food such as milk and blood.
They hope to get the Seychellois public to appreciate their authentic performances.
The Ministry of Tourism and Culture and the FetAfrik 2013 committee have expressed their appreciation for the help received to get the Kenyan Masai Group to Seychelles.
In particular they want to acknowledge the support received from Daphnee Bonne who has been the main contact with the group, and from Kenya Airways who is sponsoring the air tickets for the Masai group.