Bedridden youth gets special bed from Lazenes Lepep
11-May-2013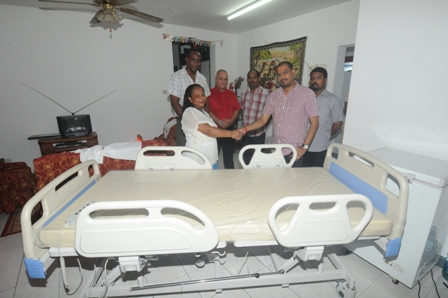 Aiming to help Mr Jacques be more comfortable, a special medical bed has been donated to him by the Lazenes Lepep movement recently. It was presented to him at his home where he lives with his mother and brother. Greg was working at the company eight years ago, when he had an accident. Although at first he could get around in a wheelchair, he got worse after five years and has now been bedridden for three years.
The chairman of the movement Renny Bijoux said the donation will hopefully make a difference in Greg's life, and for them, this is an achievement.
"As a group of young people, we try to help other young people, and we will continue to find ways to support each other," he said.
The bed has been donated by the Kannu's Group, whose representatives Kannan and Shan Pillay were also present at the donation. They said the bed cost US $1,400 and came from Singapore, and will help him sit upright thus reducing back pain.
Also present was the member of National Assembly for St Louis Herbert Hoareau.
Greg thanked all those who had made the donation possible.
I. H.