Water scars side of Trois Frères
11-May-2013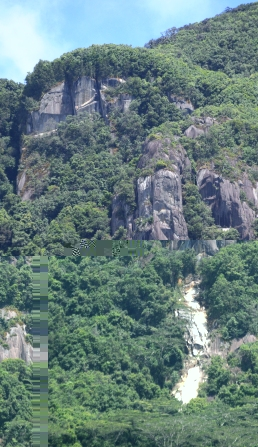 The Ministry of Environment and Energy said this in a press release, adding many people have been wondering what had happened.
"After speculating that what was observed was caused by a landslide or rock fall, a closer inspection by staff from the Divisions of Risk and Disaster Management and the Seychelles National Parks Authority revealed otherwise," said the ministry.
"The purpose of the reconnaissance visit was to investigate the real cause of what was being observed. The team of three took more than one and a half hour to reach the area from Sans Soucis because there is no trail leading to the site.
"Observations on site revealed that several albizia and cinnamon trees have fallen and piled up on top of each other. The trees which once stood guard on top of the rocky face have been uprooted, toppled and deposited at a step on the mountain.
This may have been the result of minimum soil cover, the weight of the trees as well as the impact of moving water on the rocky surface," it said.
The grayish colour seen is of the exposed rock surface which was previously covered by the soil and vegetation.
The ministry said it will take time for the rocky surface to be covered as it was before.