World's leading fishing magazine features article on sports fishing in Seychelles
11-May-2013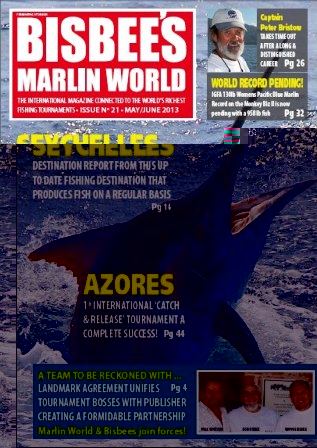 The article entitled 'Fishing where time stands still' was written by local writer Glynn Burridge, himself a long-time fisherman in the Seychelles waters, with useful information supplied by members of the local Seychelles Sports Fishing Association.
Founded by Paul Watson in 2007, Marlin World began as an innovative online video magazine that looked on a monitor screen like a 'glossy mag' but could be read simply by turning the pages with a click of the mouse. The initial subscribers were a relatively small assortment of big game fishermen from a limited number of fishing spots around the world. Just six months after the launch the number of subscribers grew rapidly and in 2012 it boasted over 23,000 international recipients.
The article highlights Seychelles as an amazing fishing destination that offers one of the best 'mixed bags' around with frequent catches of sailfish, tuna, trevally, wahoo, dorade, barracuda and the mighty marlin not to mention an astonishing range of coral fish such as emperor, bream and grouper. The cover of the May edition of the magazine shows a spectacular picture of a Seychelles marlin.
"I am very proud to have my article appear in such an iconic magazine and to have been given this unique opportunity to be able to place Seychelles on the map as a fishing destination," remarked Glynn Burridge.
"I commend the efforts of the Seychelles Sports Fishing Association in arranging for the article to appear in the magazine. It places us squarely on the map as a potential destination for serious fishermen from around the globe and that can only be good for our tourism," he added.
The same fishing article also appears in the May edition of Silhouette, the in-flight magazine of local airline Air Seychelles and may be read on www.facebook.com/groups/seychellesfishing/ (Seychelles Sports Fishing Club, PO Box 1000, Mahé, Seychelles This email address is being protected from spambots. You need JavaScript enabled to view it. ) and on the author's blog: www.glynnburridge.com/blog.