New body to support local fashion designers
13-May-2013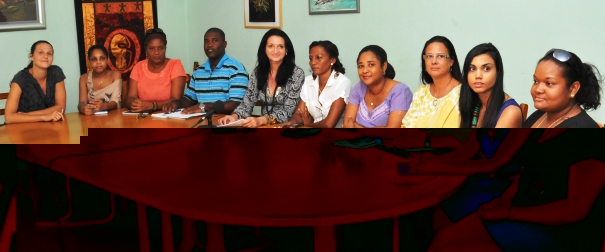 The Seychelles Fashion Designers Association is headed by Joëlle Fabre and has Johanna Didon as vice-chairperson, Terry Carola as secretary, Lydia Charlie as treasurer. Elle Rydin is the public relations representative on the executive committee of the association.
Other members are Nathasha Laval, Janese Jules, Roudy Valentin, Karine Dupouy and Claudine Savy.
Speaking at a press conference held at the National Arts Council's office last Friday, Mrs Fabre said the association will support creativity in various aspects such as fashion, textile, clothing, accessories and craft.
"We want to discover new and emerging talents and offer support to better cultivate the abilities and visions of these designers," she added.
The association will also offer training and support for its members by equipping them with new techniques and keeping them updated with the latest in the fashion design world.
"We believe we can give more motivation to these students by finding ways of increasing their resources so that they can better realise their dreams and aspirations in designs," she said.
The association is hoping to work towards the allocation of one or more design scholarships for Seychellois students to enable them to continue their studies abroad in this field.
We believe that Seychelles has the potential to develop further and reach international standard in the fashion design field, she said.
Mrs Fabre said the association wants to take part in environmentally sustainable processes and will look at ways to encourage fashion designers to use recycling materials to produce creative work.
Other members spoke on the challenges faced by local designers such as lack of materials and tax.
The association will tackle these issues by holding discussions with the relevant partners and agencies concerned and they will also look for sponsorship.
The members are calling on all fashion designers locally to join the association and help make a difference in this field.
Mr Carolla said the association will have a major role to play during the Seychelles Fashion Week to be held here for the first time from August 28-31.