'Review law to help Seychellois attorneys return'-. Chief justice says during court complex handover
16-May-2013
It is therefore necessary for the law to be changed to allow the Seychellois to return and either follow a crush programme to familiarise themselves with the country's system or be pupils for a shorter period.
Chief justice Fredrick Egonda-Ntende said this yesterday in an interview after he received the keys for the new China-funded US $6 million Palais de Justice court complex from chief builder Bing Qihong during a ceremony attended by President of the Court of Appeal Francis MacGregor and all judges on site at Ile du Port.
Also present was Han Qingchem of the Chinese Embassy.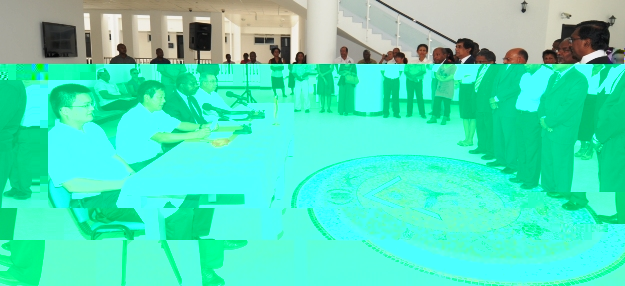 Mr Egonda-Ntende said the new complex – due to be officially opened on June 17 as part of this year's National Day celebrations – should help speed up court cases as it can take more judges, but for more cases to be heard there need to be more lawyers in private practice, yet there are only 33 now.
Mr Egonda-Ntende said the building is most suitable with facilities as good as you can find anywhere, but the human resources aspect needs to match the structure for there to be faster clearance of the long-standing backlog of cases.
"If a Seychellois lawyer has a successful practice say in London, he does not want to lose two years of his life by coming here to become a pupil earning nothing for two years.
"We need to open the way for Seychellois lawyers to come and practice in their country.
The two-year period can be reduced to maybe six months.
"If a person is proved to be a competent lawyer abroad there should be a way of that person being introduced to the laws of Seychelles in the same way it is done with the foreign judges who come and start hearing cases immediately," he said, calling the possible return of Seychellois lawyers a short term solution.
As a long-term measure, Mr Egonda-Ntende urged more Seychellois to take up law, noting the new building has 10 courtrooms: eight for the Supreme Court, one for appeals and one for the master of the Supreme Court, "but lawyers are also needed for the magistrates' court," he said.
The building was designed by Qingdao Architectural Design & Research Institute Co Ltd who are architectural and engineering consultants, and built by contractor Qingjian Group Co Ltd who started work in August 2011.
He thanked the contractors and China "for the wonderful gift" saying:
"I am sure I speak not only for my colleagues and staff who will work in this building but for the legal profession and the court users who will now be able to work and litigate in a dignified and adequate environment.
"The cooperation extended to us by the current and previous Chinese ambassadors to Seychelles and their staff has been phenomenal."
He also thanked the Minister for Foreign Affairs Jean-Paul Adam and people in his ministry for their contribution, offering special thanks for judges MacGregor and Bernard Renaud, "who prior to my assumption of office played a key role in the conceptual stages of this project".
"I need not remind my colleagues and staff that the hard work starts now," he said, urging court staff to take seriously the training they are getting to be able to use the equipment at the new courts.
Mr Bing said the work took one year and nine months to finish and they faced many difficulties but also got a lot of support from the Chinese and the Seychelles governments, especially the Supreme Court.
He expressed confidence that the new complex will help improve the judiciary's environment and bring benefit to the people of Seychelles.