Port Victoria captures top award
16-May-2013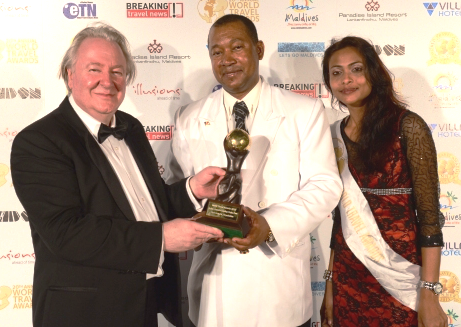 The ceremony – which took place in the Maldives – was aimed at acknowledging and recognising excellence in the global travel and tourism industry during 2012.
High Commissioner of Seychelles to India, Waven William, accepted the prize on behalf of the Seychelles Ports Authority.
The World Travel Awards (WTA) – also known as the Oscars of the Travel Industry is celebrating its 20th anniversary this year and is regarded as the highest achievement that a travel product could hope to achieve.
Recipient of the same award in 2010, Port Victoria has proved once again that it has the willingness and capacity to compete with larger ports in the Indian Ocean region such as Port Louis in Mauritius, 'Le Grand Port Maritime' of Reunion as well as ports in Madagascar, Comoros and the Maldives.
This award – which has recompensed the high quality of services offered to cruise ships and their passengers while they are in Port Victoria – is the fruition of a very strong collaboration between the Seychelles Ports Authority (SPA) and its partners who are involved in welcoming cruise visitors in Seychelles.
It showcases the concerted efforts of key partners such as the Ministry of Tourism and Culture, the Seychelles Tourism Board, destination management companies, shipping agents, taxi and car hire operators, local tour guides, ship chandlers, craft vendors and the Seychelles Public Transport Corporation have invested in this very important industry.
The Seychelles Ports Authority (SPA) being the leading body in Port Victoria has over the years carved clear marketing and promotional strategies to entice major cruise lines to call at Port Victoria. In partnership with the other key stakeholders in the cruise tourism industry, it has devoted and mobilised a wide range of resources to bring Seychelles back into the global cruise spectrum. In direct collaborations with the destination management companies and within the framework of the Association of Ports of the Indian Ocean (APIO), Port Victoria has since been present in major cruise and yacht fairs in Europe and the United States.
Striving for a better service and more discipline in the ways that cruise ships and their passengers are handled and entertained in Port Victoria, the staff of SPA are emphasising on attention to details in order that visitors feel at home and have value added during their séjour in Seychelles.
The SPA is continually developing new strategies to improve its services to facilitate and prolong the stay of our visitors in Port Victoria. Under its current sister ship agreement with the Port of Marseille, it is hoped that during this year, the SPA will have the visits of two cruise experts from this region to further analyse the services that are being provided to cruise ships and their passengers in Port Victoria, with the intention of taking such to greater heights.
The SPA said in a statement it has dedicated the award to the people of Seychelles for giving our cruise visitors warm hospitality as well as an exclusive and unforgettable reception.