Parents join the fight against under-aged drinking
18-May-2013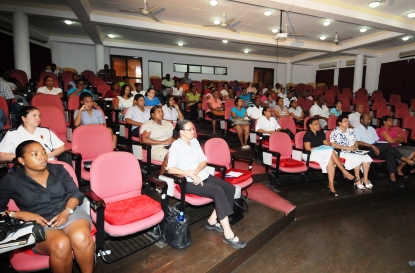 Dr Malulu speaking at yesterday's symposium with second and post-secondary students and their parents
This was through a symposium aimed at bringing more awareness to parents on the effects of under-aged drinking and to highlight what they can do as role models.
Attending the opening of the symposium held at the School of Education Mont Fleuri were Designated Minister Vincent Meriton, Minister for Education Macsuzy Mondon, the ministry's principal secretary Merida Delcy and director general for schools Odile Octave.
The symposium forms part of the campaign against under-aged drinking launched recently.
In this second phase parents have been targeted as they are one of the key partners in the fight against under-aged drinking.
Speaking at the session, Mrs Delcy said educational institutions in the country are today facing problems related to alcohol consumption by the students.
They either come to school under the influence of alcohol, they develop behaviour problems and negative attitude towards their studies, she said.
"The time has come for us to talk about the challenges which threaten our children's future and alcohol as we know is a major concern.
"We are addressing you dear parents as you have great influence on your children," said Mrs Delcy.
She added that the child wellbeing survey of 2008 showed 19% of children aged between six to nine years old had consumed alcohol during family reunions.
"It is alarming to note that 15% of children of the same age has been drunk before," she said.
The same research showed that 28% of children aged between 10 to 13 years old have also gotten drunk before.
"The statistics in this study is showing us that alcohol consumption starts at home."
Mrs Delcy called on the communities to support the families and the schools in this campaign to fight against under-aged drinking.
Result of a study carried out with secondary and post-secondary students in relation to alcohol consumption and awareness were presented during to the symposium.
Dr Daniella Malulu from the Wellness Centre gave a detailed presentation on the medical perspective of under-aged drinking.
She said there are a lot of factors contributing to under-aged drinking not only at home but in the communities such as the easy access to alcohol in all the shops.
Dr Malulu said there are a variety of alcoholic beverages being sold at cheap prices.
She added that the community has an important role to play in this campaign so there is a need to target not only the under-aged children and youths but also the parents and partners in the communities.
Dr Malulu said parents need to adopt home policies which prohibit the use of alcohol and have close supervision of their children.
Also speaking was Mr Meriton who said the spiritual aspect is also vital to guide our children as it is what leads us through our social challenges.
He also stressed that parents need to spend quality time with their children.
Mr Meriton added that there is a need to bring this campaign and awareness programme in the schools, in the communities and get all the partners concerned to get involved in this fight.
There were other presentations during the symposium after which the parents were able to share suggestions and ask questions.