Voting for Miss Seychelles People's Choice Award begins
18-May-2013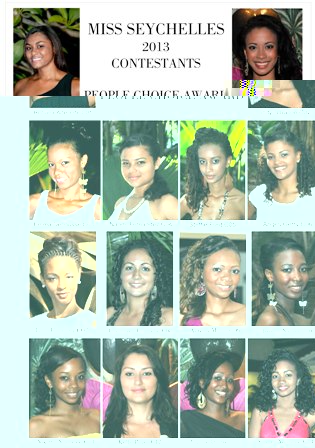 Besides the coveted Miss Seychelles – another world title, the 14 contestants – aged between 18 and 22 are also vying to be designated Miss Photogenic, Miss Personality and Miss Evening Gown, besides the People's Choice award.
Voting was launched on Friday April 26 on both Cable & Wireless and Airtel as well as via the Miss Seychelles website.
During the first two weeks, 3,335 votes have been recorded and the number is rising as excitement soars, closer to the pageant.
The organisers have said that this year votes from both SMS and Miss Seychelles website will be compiled to select the People's Choice winner.
To vote on the Miss Seychelles website, visit Miss Seychelles info/contestants. Select your contestant and vote. Please note that you can only vote once.
To vote by SMS, just choose from the table below and send their personal code to 9689at Airtel or 9688 at Cable & Wireless.SMS rates are 40 cents for Airtel and 46 cents for Cable & Wireless. Voting on the website and by SMS will be open to the public until two hours before the start of the pageant on May 25.
1. Adelaine Rohana CO1
2. Barallon Lindy CO2
3 Denousse Emma CO3
4 Fernandez Naomi CO4
5 Fred Steffi CO5
6 Gerry Agnes CO6
7 Hoareau Isha CO7
8 Lablache Francesca CO8
9 Marie Avrena CO9
10 Napier Joanne C10
11 Nourrice Nikita C11
12 Payet Kelly C12
13 Quatre Angele C13
14 Ramanoelina Sandra C14