Big turnout for Seventh-Day Adventist church's health expo
18-May-2013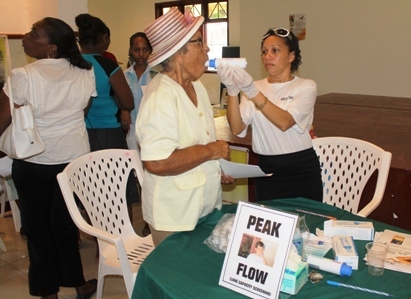 The half-day event was an opportunity for members of the public to come and check on their health status through various tests, such as Body Mass Index, blood pressure, sugar level, lung power, and even their HIV status.
Each letter in the expo's theme 'New Start' represented an aspect of striving for a better health, namely Nutrition, Exercise, Water, Sunshine, Temperance, Air, Rest, and Trust in God.
Those present could also take some simple tests to see how physically fit they were, and then got educated on how to better take care of their health through different means, as well as counselling. Those who felt stressed, or simply needed to relax could enjoy massage sessions, and indeed that particular table drew a long line of people!
There was also an exhibition where one could see and learn about the various kinds of food that are good for one's health, each kind of food or food group that is good for a particular aspect of one's life, what comprises a healthy meal, as well as plants that can be used for medicinal purposes.
Among the tests done at the expo was an interesting one, where people got a contraption-like plastic tube each and had to blow through it, and see how strong their lungs are. Called the peak flow test, this is a test to see if one is breathing properly, and whether one's lungs are circulating as much air as they should in one's body.
Speaking to Seychelles Nation, the health director for the SDA Anse Etoile group Alice Pointe, said they were all well satisfied with the public's turnout.
"People were still coming in even as the event drew to a close, and we can certainly declare the expo a success. We are encouraged that people are interested in taking care of their health," she said.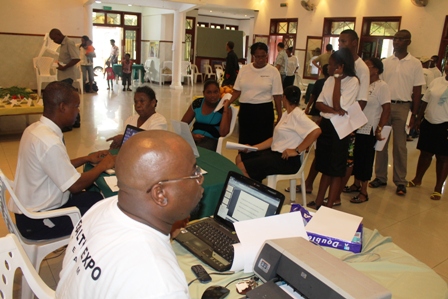 SDA mission health director Gemma Changty-Young said that the next step now is to analyse the data gathered and decide the best course of action to take from there.
"In following up with the tests done, we will continue giving advice to people where and when needed, and we will also refer others to the Ministry of Health, such as cases of positive HIV tests, and also diabetes and high blood pressure, but rest assured everything is done in the strictest confidence," she said.
"Since we keep careful records of each people we tested and talked to, we ask those who took part to continue coming to our expos to continue checking up on their health.
The SDA said they have held such expos in St Louis, Baie Ste Anne Praslin, Anse Royale, Bel Ombre and Victoria. There have been follow-ups after each of the expo and the SDA has said they will soon be holding another one for the public.
I.H.