Dr Mohsin Ebrahim gets Professor Emeritus status
22-May-2013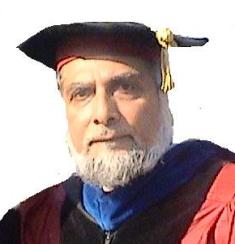 Dr Ebrahim – the son of the late Ebrahim Suleman of Adam Moosa & Co. (Pty.) Ltd – left Seychelles in 1970 to pursue studies in Islamic Theology in Pakistan and Egypt. It was in 1977 that he was awarded the Bachelor of Islamic Theology degree by the internationally acclaimed Al-Azhar University in Cairo, Egypt.
He returned to Seychelles the same year and was instrumental in negotiating with the government of Seychelles, especially with the then minister, Dr Maxime Ferrari, for permission to build the first ever mosque in Seychelles.
Likewise, in 1981, he managed to convince Sheikh Serour bin Khalifah al-Nahayan of Abu Dhabi who was on a private visit to donate generously for the construction of the mosque, which was named after his late father Sheikh Muhammad bin Khalifah al-Nahayan.
When the mosque was finally functional in 1982, he left Seychelles to pursue postgraduate studies in religion at Temple University, Philadelphia, USA. His Ph.D. thesis titled Islamic Ethics and the Implications of Modern Biomedical Technology: An Analysis of Some Issues pertaining to Reproductive Control, Biotechnical Reproduction and Abortion – submitted in 1986 in the department of religion, Temple University, Philadelphia, signified the first serious study in the field of Islam and bioethics undertaken at a Western University.
Dr Ebrahim started his academic career at the University of Durban-Westville, Durban, South Africa, in 1985 as a junior lecturer in Islamic Studies and became a full Professor of Islamic Studies in 1999.
The University of Durban-Westville merged with the University of Natal in 2004 to become the University of KwaZulu-Natal.
Some of Ebrahim's books have been translated into foreign languages, for example: Issues – An Islamic Perspective, published by A.S. Noordeen in Kuala Lumpur, Malaysia in English was translated and published in Malay and Urdu; Organ Transplantation, Cloning, Euthanasia and Animal Experimentation: An Islamic View published by Islamic Foundation, Leicester, UK, was translated and published in French.
Dr Ebrahim is currently writing a historical book on Muslims in Seychelles.