Former President Mancham addresses Capdi meeting
22-May-2013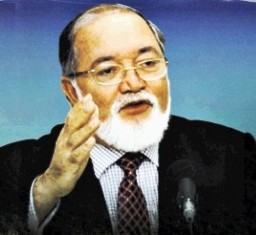 He addressed the South Sulawesi Province town of Makassar in his capacity as vice-president and member of the governing council of Capdi.
Two years ago, Seychelles was admitted as a member of the organisation when Foreign Affairs Minister Jean-Paul Adam represented President James Michel – who was at that time specially recognised for his leadership role in the field of national reconciliation.
The other personalities invited to speak on Monday were Prime Minister Samdech Techo Hun Sen of Cambodia and Capdi chairman emeritus/honorary chairman
2. H.E. Mr. Fidel Ramos, honorary chairman of Capdi and former President of the Philippines
3. H.E. Mme Nalinee Taveesin, Minister in the Office of the Prime Minister of the Kingdom of Thailand
4. Hon. Sheila Copps, former Deputy Prime Minister of Canada and former Minister of Environment of Canada
5. Mr. Stuart Scott, executive director of United Planet Faith & Science Initiative.
Earlier the assembly had been open by H.E. Dr. M. Jusuf Kalla, chairman of Capdi and former Vice-President of Republic of Indonesia following a welcome address by H.E. Mr. Syahrul Yasin Limpo, governor of South Sulawesi.
According to the Honorable Dr Jose De Venecia Jr, Capdi President and former speaker of National Assembly of the Philippines, Capdi is today playing a leading role as a promoter of reconciliation in the Asia Pacific region. And in this connection has been credited which several achievements. At this moment, Capdi is actively engaged in promoting reconciliation and national unity in Thailand.
In his speech, Sir James said that poverty is the greatest menace to peace and stability not only in the South East Asia and Pacific region and also internationally. In this respect he deplored the amount of money the world is spending on military equipment rather than on human resource development.
Sir James said that as a member of the council of the Eldest and the Wise of Comesa he welcomed Capdi's growing interest in the economic development of the Africa continent.
"In the global village of today we must all remain connected and engaged to eradicate poverty and to face the alarming challenges paused by climate change," Sir James stated.