Photo exhibition showcases African Union's 50-year history
27-May-2013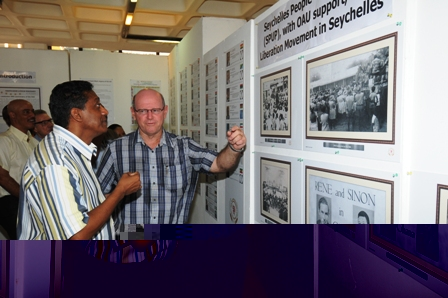 Guests viewing the exhibition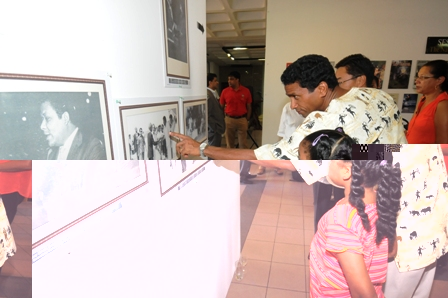 The exhibition is part of activities to mark the 50th anniversary of the Organisation of African Unity (OAU), which is today known as the African Union (AU), and it also coincided with the FetAfrik celebrations.
Attending the opening were Vice-President Danny Faure, Minister for Natural Resources and Industry Peter Sinon, leader of the opposition in the National Assembly David Pierre, members of the diplomatic corps, principal secretary for culture Benjamine Rose and several other guests.
In his opening address, Minister for Tourism and Culture Alain St Ange said the golden jubilee of the OAU-AU is a milestone achievement in this imperative continental body.
"Under the aegis of the AU, Africa has the renewed hope of a continent of stability, peace, security and unity," he said.
"It is critical that we do not lose our connection with this unique organisation that continues to represent our commitments, devotions and aspirations of an Africa where wars, mistrust and destruction are things of the past."
Seychelles and the AU have a rich history dating back to the country's own liberation movement n the 1960s. Our country became a member of this organisation after our independence in 1976.
Mr St Ange said the AU has come to represent a driving force behind the advancement of our unique continent and has been adamant of the critical importance of the inclusion of all the African island states in this process.
He reiterated the need for us to see Africa in a different light and to keep appreciating the importance of being part of a representation of what the continent can and will be if we continue to strive and remain committed to our aspirations.
Exhibits include the history and background of the AU, its main organs, AU secretary generals, and the Seychelles People's United Party (SPUP) with OAU support as a liberation movement in Seychelles in photos.
The AU has many objectives which include achieving unity and solidarity between the African countries and the peoples of the continent, and defending the sovereignty, territorial integrity and independence of its member states.