Children urged to be grateful
28-May-2013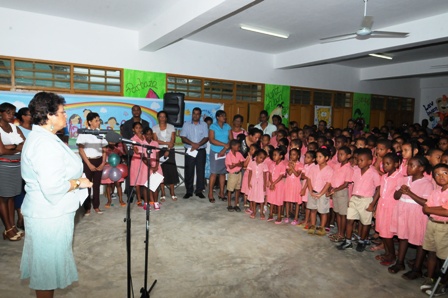 The appeal comes from Education Minister Macsuzy Mondon as she officially launched this year's Child Protection Week yesterday under the theme 'Gratitude is a great attitude'.
The event, an initiative of the National Council for Children (NCC), was also attended by the principal secretary for Education, Merida Delcy, and the director general for schools, Odile Octave.
The inclement weather meant that the children and guests had to squeeze into the dining hall at Mont Fleuri primary school, but as the minister pointed out, rain is one of the things we should always be grateful for.
Ms Mondon's love and warmth for schoolchildren shone through in her trademark manner of addressing and engaging with the assembled pupils, as she explained the concept of gratitude to the pupils.
"Children, you have a lot to be grateful for," she told them. "You came to school this morning, and a lot of good things happened to you. You have a home, you have teachers, you have parents and you have friends at school, so for all this you need to be grateful."
"You need to appreciate all the little things you have, and of course, when you appreciate the little things, bigger things will come."
"I want you to study very hard and reach for the stars – do you think you can reach for the stars?" she asked, and received a resounding "yes" from the children.
Mont Fleuri primary's head teacher, Marie-Therese Elisabeth, said that Child Protection Week could not be ignored because the world was becoming an increasingly dangerous place for children.
"Every day, every minute, there are incidents reported in the media of children being hurt in a variety of ways; child abuse, neglect, bullying and substance abuse. All of these appear to be increasing in spite of all the vital work done by government, voluntary organisations, charities and the church. There is a need for us to continue working towards cultivating positive attitudes, values and behaviour."
"As a school we play an active role in equipping our children with skills to keep them safe. We have to teach them how to prevent difficult situations from arising, and how to cope when they do. They need to know what to say and what to do, to whom to go for help and strategies for promoting protection. I wish to thank the Seychelles government for all the structures we have in place to safeguard our children."
A group of children recited a poem entitled 'As I grow' by Helene Rothschild, and posters of the poem were handed over to the minister by the director of the NCC, Ruby Pardiwalla.
"Soon you will see these beautiful words up in all your classrooms and in the classrooms in all the schools in Seychelles," said Ms Pardiwalla.
The NCC's communications coordinator, Jean-Claude Matombe, said the aim behind the gratitude campaign was to encourage parents and children to cultivate appreciation.
"Child Protection Week is a time when we try to encourage people to see child protection as everybody's business."
"Grandparents also have a lot to do with child protection, because they have the time, they have skills and they can interact with children," he said. "Grandparents have a lot of traditional values, so they can interact with the children and teach them to say thank you and to appreciate things and study hard."