More tourism in-service management courses expected
28-May-2013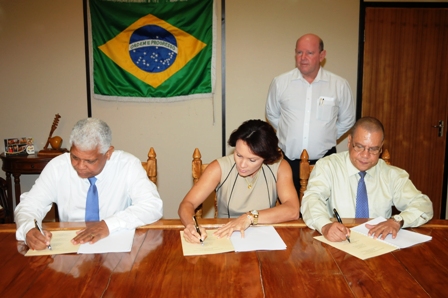 The signing of the memorandum of understanding (MoU) between the chief executive of the Seychelles Tourism Board (STA) Elsia Grandcourt, the principal of the Seychelles Tourism Academy (STA) Flavien Joubert and the general manager of Constance Hospitality Training Centre Claude Narrain took place in the presence of the Minister for Tourism and Culture Alain St Ange.

Under this new MoU, Constance will provide for advanced courses in events management, housekeeping management, wellness and spa management and diploma in hospitality management .
All the courses are targeting professional in-service candidates and are expected to start before the end of the year or early next year.
Under the first MoU between the two institutions which dates back from 2007 Constance has provided a lot of training courses to the local tourism industry personnel and these included training in wellness and spa, among many others.
Wishing the partnership success Minister St Ange said: "I feel proud to see that the STA has been able to muster that sort of cooperation. I congratulate you all because the memorandum ties Constance and STA even further."
Before the signing Mr Narrain handed Minister St Ange a book on the Constance Group.
"Through the book I have realised that Constance is not just a hotel company but an entity of the region to which we are proud to be affiliated,'' said Minister St Ange.
He added that the signing is proof that the group believe in the Seychelles tourism industry and they want to be in partnership with us.
For his part Mr Narrain said the signing of the agreement is a continuation of the one signed in 2007 to further strengthen human resource development in the tourism industry in Seychelles.
"We have started something which we cannot stop now, we will continue to collaborate even more closely with the STA to ensure professionals in the tourism management sector get the necessary tools to better improve their work and their ability to deliver the level of services required of them," said Mr Narrain.
He expressed his sincere thanks to Minister St Ange for his presence at the signing which he said shows the importance of the partnership between Constance and STA.
Mr Joubert said he is very happy that the STA has managed to secure these courses which will further enhance the skills and capabilities of in-service personnel to continue to deliver higher quality services.