Up Close … with Mena Allissop, teacher, mother, role model-A special tribute to a very special mother…
28-May-2013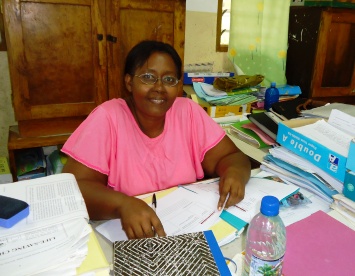 Mena Allissop – teacher, mother, wife and yes, even grandmother now – is this year celebrating 40 years as a teacher. We take a look at her life as a teacher, her achievements, proudest moments and more.
Life at Barbarons
She has always lived at Barbarons. As simple as that. Her earliest childhood memories were when she was living with her parents and three sisters, far from the main road. Their house nestled among the hills of Barbarons. It was very quiet there, and although they were poor, they were also very happy. Both my grandparents worked to support the family, and my grandfather, known as 'Ton Bijoux', would plant lots of vegetables and root crops, and also raise chickens and pigs for the family's own consumption. In those days there was also a plentiful supply of local fruit all around and all year long, just begging to be picked!
"It was a happy time for me, and living far from the road, we had that kind of peace and quiet, no traffic, no being disturbed by other neighbours; it was like we were in our own little world," she said.
A happy childhood memory for her was when a man came each Sunday with a massive coffer on his head, which had all sorts of cakes in it. He would walk with that box on his head all the way from Anse Boileau to Barbarons, and my mother and her sisters would walk down to the main road and buy feyte, bar lafen, and other delicacies, and take home the treats to be shared out and enjoyed every Sunday. In those times, it was indeed a big thing when it was time to go down to get weekly cakes each Sunday. It was also a big event when it was time to accompany my grandmother for the end of year shopping trip at Anse Boileau, where supplies for a whole month would be bought and stocked, carefully calculated to last until the end of the following month!
Getting into teaching
Following mainstream education, Miss Mena attended primary school up to P6 at Grand Anse Mahé, and secondary school from S1 up to S3. After that she attended a school called Domestic Science, comparable to a post-secondary institution, for two years. At that time she was around 16 years old, and got a job as a supply teacher.
"I got help getting started with the head teacher and other teachers, and worked for some time until I decided to further my studies again. So I joined the former Teacher Training College (TTC), followed a three-year course, then stayed on for two more years to do my diploma in teaching," she said.
After five years at the TTC, she was granted a scholarship in 1994 to do a Bachelor's Degree in Education at the Edith Cowan University in Australia. At that time she had two children (yours truly and brother Colin), and after successfully finishing her degree, she came back to Seychelles in 1996.
Some of the primary schools she has worked at include Grand Anse Mahé, Plaisance, Port Glaud, Bel Eau and Mont Fleuri.
A couple of years after getting back from Australia, she was working as a studies coordinator at Port Glaud primary, and was asked by the Ministry of Education to help out with a teacher shortage at secondary level. This was an opportunity for her to take her work to the next level, and put into practice some of what she had learned during her degree course.
So she joined the Anse Boileau secondary school, where she still teaches English up to this day. In fact, as you read this, she is probably in class doing her thing!
"To me it is sheer coincidence that I started teaching at Anse Boileau, have been to other schools all over the country, and now will probably end my career at Anse Boileau, at the same place that I started out," she remarked.
Forty years as a teacher. Wow. Asked what were some of her proudest achievements, she simply said that to her it is seeing past students excel in life.
"I feel proud when I see my past students getting on well in life, and achieving. I think 'Hey,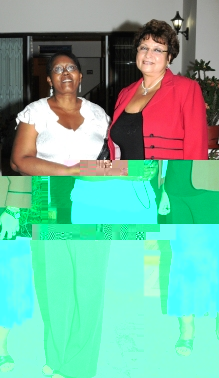 they were in my class at some point, so maybe, just maybe I've had a hand in making them what they are today!'" she laughed.
"I am proud of all my students though, no matter which career they have chosen. I have students who today are fisherman, farmer, government official, director, labourer, other teachers, all sorts in fact, and I am proud of them all."
Today's school system: A short perspective
I now wanted to know what she thought of today's school system, in a generalised way.
"State schools are doing more or less okay in a general manner of speaking. In terms of structures and resources, I would say that there is always room for improvement, but I guess as teachers we make do with what we have. I don't see us as too far behind the rest of the world, we are more or less up to date with technology," she said.
"As for the students, there is a lot of work to be done where certain parents are concerned. As teachers we need the support of parents, especially those of students who we see need special attention and who have certain problems, such as behavioural and social. But more importantly than getting parents to support us teachers, we need those same parents to support their children."
She added that there are parents who would always be supporting the school, showing up to take part in school-organised activities, and more, but the parents they needed to talk to or see come support their children are those who would in fact never turn up!
"It all starts at home, parents are the ones who should be the first to start moulding their children, even before they come to school, and this is one of the biggest factors in solving the discipline problem in schools; it all starts with the parents, and only then with teachers," she said.
Future plans
So what does Miss Mena feel is her biggest achievement?
"I feel proud that I have been able to complete all my studies and get my degree. I had to make the sacrifice of being away from my children to pursue my studies, especially at a time when there was no mobile phones, no possibility of Skyping or e-mailing," she said.
Not that I'm complaining though, as at that time yours truly stood to receive many cool toys that were not even available in Seychelles at the time -- talk about video games, walkman, awesome movies on video cassette and more!
With 40 years of teaching notched up, she shares her thoughts on retirement.
"I'm still doing okay for the moment, but as for retirement, I haven't given it much thought, so let's just say that I'll cross that bridge when I come to it," she laughed.
On a last note, while some might think that it is not really ethical or appropriate to have a feature about one's own mother, my mum has been my rock, pillar of support and shoulder to cry on all my life. And with my very last 'Up Close' feature for Seychelles Nation, I'm paying tribute to this amazing woman who has loved and supported me all my life. And would like to end by simply saying 'I love you mum'…

By Ivan Hollanda