Karate-WKF's Javier Escalente calls on Minister Meriton
31-May-2013

Mr Escalente was accompanied on the visit by his wife, the Seychelles Olympic and Commonwealth Games Association (Socga) president Antonio Gopal, Seychelles Karate Federation (SKF) chairman Donald Celestine and other members.
Minister Meriton presented Sensei Escalente with a copy of the coffee table book entitled 'Seychelles' State House – Centenary of Inauguration'. Launched earlier this month, the book relates the 100 years anniversary of the State House.
Mr Escalente told Sports Nation that since this is his first visit to Seychelles he does not have an idea of the level of the country's karate officiating but he is looking forward to working with the officials.
He explained that the rules have changed drastically for both the kata and kumite events as the WKF is working towards having karate included as one of the events at the 2020 Olympics.
As a result, these changes are aimed at making the sport more attractive to television audiences.
Born in Colombia, sensei Escalente is here on behalf on the World Karate Federation (WKF) to update local officials on the many rule changes within the karate organisation.
The course started yesterday and will end tomorrow when the SKF organises the Karate National Championship at the Omnisports Gym, Roche Caïman, starting at 9.30am.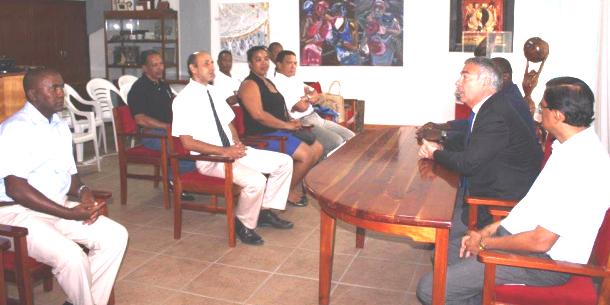 The SKF has said that the course is aimed at improving the level of karate.
The course has been made possible through the communications between SKF chairman Celestine and WKF president Dr Antonio Espinos during the recent International Olympic Committee conference held in Lima, Peru.
Mr Escalente is the secretary general of the Swedish Karate Federation, the WKF secretary and the secretary of European Karate Federation referee commission.
S. N.