Elijah brings the house down with '20 Years in music' concert
01-June-2013
Tickets for the show were sold out well before the concert was due to take place, with people still clamouring for tickets on the social network Facebook, as well as trying their luck at the door.
The show started with a video tribute to Elijah by people close to him, including his mother and fellow artists Dareal Thing, Hilary, Jakim, T-Tray, and brother Mercenary.
Accompanied by the Warrior band, the show was one where no expense was spared on sound, with professional sound system brought in by Relations studio.
A number of local singers and Elijah's colleague artists paid tribute to him by performing some of their songs for the audience. They included Ky-Mani, Su-Shine, Michelle Marengo, Red-I, Antoinette Dodin, Charlie and Mercenary.
It was a house-party atmosphere as Elijah's colleagues livened up the audience to the point of them refusing to sit down, and even coming to the front of the stage to dance along to the songs.
Elijah made his entrance two hours later starting with a hot Mauritian sega beat that had the crowd screaming in glee, and mixed his songs with the Warrior band keeping up the good vibes and the hall booming with music. Cries of 'Pouse pa Pouse' kept filling the air amid well-loved songs like Fire Brigade, Ayayay, Pous sa Dife, Gro Madanm, Sa Separasyon, Doker, Mon Bizou, Kanmto Ragga and more.
Elijah also brought out some of the songs from his earlier times in the music industry, when he was still part of the Ragga Blastaz crew, such as Ragga Kroke, Sa Lanmizik and Fo Rimer (the last two being interpretations of Patrick Victor's and David Philoe's compositions).

To spice up his show, the young singer also told jokes, passed on messages of good moral to the audience and thanked them for their ongoing support.
He also promised his fans a new album due to be released soon.
Some of the artists who also performed during the show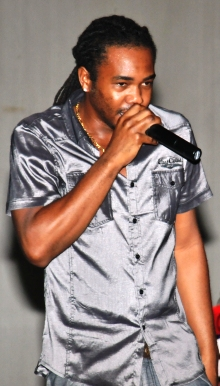 I.H.