Stakeholders meet to finalise national report on sustainable development
12-June-2013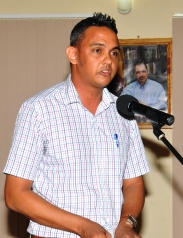 Different stakeholders met in a day-long workshop on Monday to finalise the national report for Seychelles which is expected to be an instrumental working paper and the first step for our country in the preparatory process for the third international conference on small island developing states (Sids).
The Seychelles national report, which will also serve as a very important country paper, must be ready to be presented at the Atlantic, Indian Ocean, and South China Sea (Aims) sub-regional grouping preparatory meeting to be held here from July 17-19.
Many of those who took part in the workshop had already made significant contributions towards the report through various discussions and meetings held over the past few weeks.
The workshop was to further analyse the draft of the report to ensure that it collectively identifies the challenges and the way forward to achieve sustainable development before it is consolidated and validated.

The workshop discussions were led by Cliff Gonzalves, a local consultant who has been preparing the report with the help of the UNDP and other partners.
Alain De Commarmond, the director general for climate affairs, adaptation and information in the Ministry of Environment and Energy, launched the workshop which took place at the Seychelles Trading Company's conference hall.
Addressing those taking part, Mr De Commarmond said their presence was a firm and strong sign of commitment to the process.
Mr Gonzalves explained that the series of consultative meetings held so far with different groups including youth, women and other sectors have developed their perspective on issues like the progress Seychelles has made and the challenges it still faces as a small island developing state.
"It is important that the report highlights our challenges and the different issues which affect development and progress as it is based on these that we qualify for assistance," Mr Gonzalves noted.
Among the challenges being highlighted are access to funding for sustainable development projects and programmes, an issue which Mr Gonzalves said Seychelles, which has made significant progress in different sectors, no longer qualify for and therefore it is paramount for small island developing states to highlight at international level.
Mr Gonzalves said all aspects of our development including economic, environmental and social, are analysed in the report which has to be presented at different regional conferences for Sids where it will be fed into a regional paper being prepared by Aims prior to the Samoa conference next year.