AU chief addresses special session of the Assembly
14-June-2013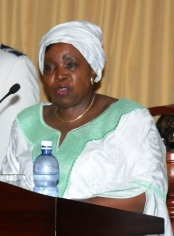 Dr Dlamini-Zuma addressing members of the Assembly yesterday
Dr Dlamini-Zuma said this when addressing a special session of the National Assembly yesterday morning.
Welcoming Dr Dlamini-Zuma, Speaker of the National Assembly, Dr Patrick Herminie, said her resolve to fight for what is right is legendary.
Dr Herminie said today, Africa needs to fight another war, which is for its economic independence. He also thanked Dr Dlamini-Zuma for her unconditional support given to Seychelles' bid to join the Pan-African parliament.
Dr Herminie also conveyed best wishes of recovery and good health to President Nelson Mandela.
In her address, Dr Dlamini-Zuma said the AU takes great pride in Seychelles' achievements in aspects of human rights and in the development and investment made in its people among others.
"We commend you for putting Seychelles among the world's high achievers for human development and you are an inspiration to all of us, to many other countries on the continent and beyond," she said.
Your success is a demonstration to the rest of Africa that it is possible to aspire for higher and better human development, she added.
She also encouraged Seychelles to remain steadfast in its efforts to transform the economy and to improve the quality of life for all its citizens.
Talking about the golden jubilee of the Organisation of African Unity/African Union, Dr Dlamini-Zuma said it is a chance for Africans from all parts of the continent to reflect on the past, assess the present and plan for the future.
She added that it is an opportunity to take charge of our own destiny.
Dr Dlamini-Zuma said this year the AU has called on all member states to have consultations at national level and with all sectors of society to provide inputs to the AU agenda 2063 and identify the milestones and actions needed to be taken to achieve the goal for a prosperous and united Africa.
"This is very important and we look forward to receiving inputs from Seychelles from different sectors and we will be receiving inputs until November because we want to have a common vision of where Africa should be going in the next 50 years, and what steps we should be taking to get there," she said.
Seychelles' contributions in this matter are important because African island states have to play a vital role to bring dimensions and perspectives from island states that are not always obvious from main land.
She also congratulated Seychelles for its well-preserved green environment which she said can teach others what the country has done to achieve this.
The leaders in the National Assembly – David Pierre (opposition) and Marie-Antoinette Rose (government business) also welcomed Dr Dlamini-Zuma and her delegation in the Assembly, and also held talks with her after the session.
Mr Pierre said AU and Africa are yet to achieve many of the goals set by the OAU, now known as the AU.
The leaders of the AU must work together in unity to promote health, education, peace and justice, democracy, human rights and economic success and prosperity for the African people, he added.
"We need to look to the future not in despair but with confidence knowing that African development can only happen if it is only championed by Africans," he said.
"We must be determined to make this century the African century."
For her part, Ms Rose said the presence of Dr Dlamini-Zuma in Seychelles is testament to the importance the AU places on the countries of Africa, whether big or small.
She added that Seychelles has known its fair share of challenges but despite our smallness, we can share the Seychelles experience with the rest of the Africa in many aspects.