German ambassador says farewell
20-June-2013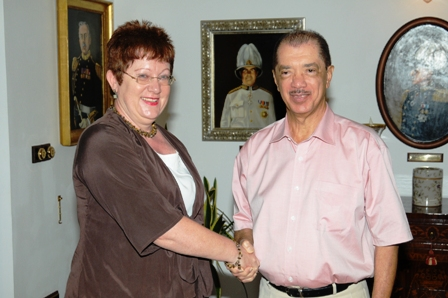 Accredited in February 2010, Mrs Hellwig-Bötte whose successor is expected to be named before the end of the year, has come to the end of her mandate.
Based in Nairobi Mrs Hellwig-Bötte was also her country's ambassador to Kenya, Somalia and the United Nations Environment Programme (UNEP).
President Michel has thanked Mrs Hellwig-Bötte for her efforts and support given in enhancing cooperation and ties in various fields, especially through Germany's membership of the EU (EU Atalanta Operation) in helping and supporting Seychelles in fighting the scourge of piracy in the Indian Ocean region and also through its work and support in the United Nations Office on Drugs and Crime (UNODC).
"We thank you and the Federal Republic of Germany for the support and dedicated efforts in assisting the government of Seychelles in the various fields of cooperation such as in the fight against piracy in the Indian Ocean. You have been very supportive throughout your tenure and I wish you well in your future endeavours," said President Michel.
President Michel and Mrs Hellwig-Bötte took the opportunity to highlight subjects of common interest for both countries such as renewable energy, climate change, protecting biodiversity, among others.
Speaking to the press after meeting the two leaders, Mrs Hellwig-Bötte described her time in office as a great achievement and that she has personally learned a lot from Seychelles in terms of the challenges that the small island states have to face with regard to environmental protection, in education, workforce and others.
"I would like to take this opportunity to congratulate President Michel for the major developments Seychelles has made since I started my post early in 2009 until today. I think throughout those years, the government of Seychelles has been able to cope and adjusted to the economic challenges as well as the fight against piracy and I believe I have helped in enhancing the cooperation between Germany and Seychelles in those areas and in other fields as well," said Mrs Hellwig-Bötte.