Ironman 70.3 UK-Baldwin finishes eighth among pros
21-June-2013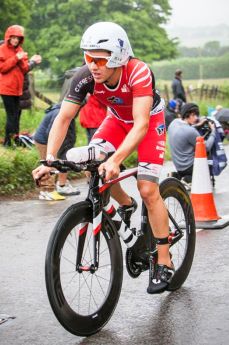 Lining up against past Olympians and ironman champions for the Ironman 70.3 UK – a 1.9km swim, 90km bike, 21.2km run – Baldwin was racing over the distance for the first time in the professional category.
The triathlete said on his website that "the competition was strong and a good performance would be needed to break into the top-10."
And he did finish among the top-10 in cold temperature.
He adds that conditions on the day were tough, with the lake temperature for the 1.9km swim being just 14 degrees and the air temperature at 10 degrees.
After coming out of the swim in ninth place, once onto the bike the competitors rode through rain and strong winds, making it more challenging.
Still, it turned out to be a good bike leg for Baldwin as he took 9 minutes off his time from last year, and this gave him confidence heading onto the run. With rain still falling, the run route, which was predominantly on grass and off road had become very muddy, making it difficult for the athletes to keep their footing. He had to dig deep in the last few miles to keep pushing the pace to finish eighth overall.
Baldwin won the amateur 18-24 years age group last year with a cumulative time of 4h51:53.
Sunday's men's pro race was won by Ritchie Nicolls who powered across the finish line in 4h15:04. Tim Don finished second in 4h20:07 just 21 seconds ahead of three-time former champion Fraser Cartmell (4h20:30).
Baldwin's next race – the 'Boskman' triathlon in the UK – is this weekend. It is a 2.6km swim, 120km bike and 20km run.
He said that the key emphasis for this week was to recover from last weekend's race and ensure he is ready for the next one.
Baldwin would like to thank his sponsors – ISPC Seychelles, Eden Island Marina, Vijay Construction and Air Seychelles – for their support.