Ste Anne resort gets new desalination plant
22-June-2013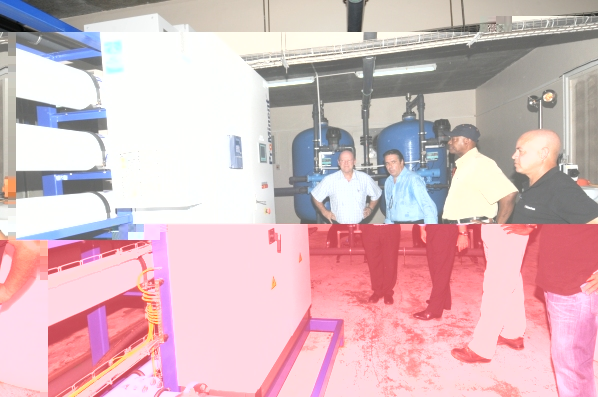 Minister St Ange is taken on a tour of the new desalination plant
A ceremony was held yesterday at the resort where Minister for Tourism and Culture Alain St Ange officially opened the new desalination plant.
The project, which has cost the Beachcomber hotels a sum of R8 million, was put in place after the resort was asked by the Public Utilities Corporation to make an effort to become independent in regards to its water supply.
Speaking at the ceremony, the resort's general manager Norbert Couvreur said the new plant will enable the Sainte Anne Resort & Spa to provide adequate water supply to its clients and staff throughout the year.
It will also be a great relief to PUC especially in times of water restrictions in the country as the water supply which was being given to the resort may now be of benefit to many homes, he added.
"We will continue to urge our workers and clients to use our water supply wisely and not to make any wastage," he said.
This new desalination plant, along with the one already in place providing 200 cubic metres of water per day, will help to increase the provision of water supply to 500 cubic metres on a daily basis.
Speaking at the event, Mr St Ange congratulated the Beachcomber hotels for taking up such an initiative and for making the investment to better its services to its clients.
He also expressed his gratitude to the Beachcomber hotels for making the effort to putting Seychellois workers in charge of the various departments there.