SIB staff learn more on employee assistance programme
25-June-2013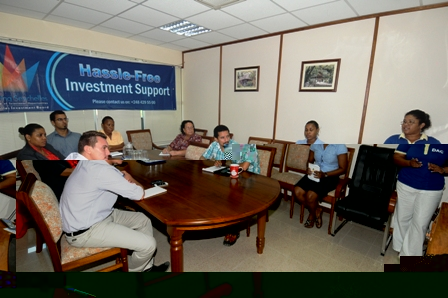 This was through a short talk by representatives of the Drug and Alcohol Council (Dac) at the SIB offices at Caravelle House.
Led by Yvana Thérésine from Dac, the talk has been organised by the council in collaboration with the Ministry for Labour and Human Resources Development.
The talks are being held at various workplaces to bring more awareness to the employers and employees on the EAP.
During her presentation, she said the EAP encourages and helps employees with personal and work-related problems.
Miss Thérésine gave them an overview of the EAP's aim and objectives, its benefits and the list of EAP service providers among other topics.
The EAP is a worksite-focused programme to help in identifying and resolving employee concerns.
It includes a mechanism for providing counselling, referral and other forms of assistance.
Among its objectives, it helps to improve the employee and employer relationship and performance of the organisation.
EAP is also seen as a great tool to promote moral and social renaissance.
The talk also highlighted some of the main benefits of the programme which includes improving productivity and efficiency in workplaces.