Up Close ... with Egbert Marday, painter and sculptor-'Art can be found anywhere where creativity is'
25-June-2013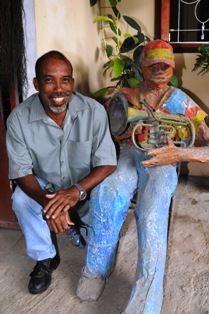 Egbert next to some of his works of art
Nestled on the side of the mountain, Egbert's home is an oasis of calm teeming with unique objets d'arts.
Water pours merrily into a pond blossoming with water-lilies in front of his studio, which is lined with artificially-sculpted rocks, expertly crafted and spray-painted to look like the real thing. Off to one side, a seated man holding a trumpet guards the hairdressing salon of Egbert's wife. On closer inspection, the man turns out to be one of Egbert's sculptures, but each time you look at it you get the eerie feeling the musician is very much a real person and has merely stopped for a quick rest in between sets.
Unconcerned with trumpets and the theory of art, well-fed Japanese koi swim contentedly in the wetland pond at the bottom of his garden, surrounded by lush green plants. The entire property seems to be blooming with tropical flowers and giant trees, heavily laden with fruits. The garage area is an assembly line for stone pots, most of which look uncannily like the uneven trunks of coconut trees. A Rastafarian sporting what seems to be an impossible amount of dreadlocks works side-by-side with an orange-turbanned Sikh, one spray-painting the pots, the other weighing buckets of fruit on a scale.
I'm late for our interview, and Egbert is in a hurry to get to Eden Island to work on a rock-sculpting commission he's eager to finish. We step into his studio, and the first thing he checks is his egg incubator. There are two newly hatched chicks inside, but one is not moving, and a few nudges confirms our suspicions that it has already crossed over to the other side.
"These two were looking a bit weak, so I kept them in here to try to keep them warm," Egbert says, removing the unfortunate hatchling.
Born in 1953 as the youngest child of 12, Egbert grew up in a time before radio and television came to Seychelles. He recalls his fondest memories of childhood were those where he and one of his brothers would have drawing competitions with each other in the space underneath his family's house.
When I ask him about the biggest difference between life for children then, compared to these modern times, Egbert says he believes in a more positive approach to parenting.
"Our parents used to complain all the time that we were horrible. I don't want to take the same attitude."
"The thing I do worry about the young generation is that they don't have enough contact with nature. We used to know the names of all the plants, but these days kids don't want to go outside much."
Egbert says the school he went to, St John Bosco in Victoria, had no formal art classes, but he remembers that his favourite task was helping his teacher draw her subject matter on the blackboard.
"Every class had a drawing champion," he said. "And that guy was like a hero to the other kids. Sometimes they would bring along art done by one of the other champs and ask me if I could do better than this guy. So in a way, we pushed each other to improve our skills."
Education
Egbert was one of eight children in his class who went on to study at the former Seychelles College, where he continued to do well academically.
"Art did not form part of the curriculum, but six of us decided to take 'O' Level examinations in art. We had no formal training, but we did get some coaching on Saturdays from Mrs Thomas, a Russian arts and crafts teacher, and one of the nuns from the Regina Mundi convent also gave us some classes."
"We all did well in the exam," says Egbert. "So much so that we wanted to take art as an 'A' Level subject, but the head teacher said no. I ended up taking geography, chemistry and biology instead."
In 1974, Egbert was sent to study biology in the United Kingdom, after which he completed a post-graduate degree in teaching. He returned to Seychelles to teach at the Seychelles College until it closed down in 1982, so he was transferred to the National Youth Service (NYS).
After seeing an advertisement in a newspaper, he applied for a scholarship to study fine art in Saskatchewan, Canada. In his second year, Egbert began to get frustrated with being in the cultural vacuum of the prairielands and applied to transfer his scholarship to Concordia University in Montreal, Canada, which he says offered a lot more in terms of cultural events, galleries and art exhibitions.
Finding his feet
Upon his return to the Seychelles, Egbert wanted to become a full-time artist, but said it was not possible because he was bonded to work for the government to pay back his educational scholarship. Eventually, he ended up being involved in the establishment of the country's first dedicated natural history museum on Independence Avenue in Victoria.
Egbert, working with a team of artists and biologists, began to create life-sized models of marine and animal species endemic to Seychelles, including the distinctive dugong and crocodile that still guard the museum's entrance.
"Before I got involved, the museum at the Carnegie building was a general-purpose museum that held elements of natural history and general history, but it had no real story. I believe any exhibition has to tell a story."
In 1996, tired of bureaucracy and realising he was stuck career-wise, Egbert decided to finally take the plunge and become a full-time artist.
"I started with commission work – my very first job was to carve the wooden doors at the entrance of the Roman Catholic Cathedral in Victoria, which took me about five months to complete," he says. "Thankfully, I've been going strong ever since then."
The role of art
Egbert says he does not have a particular preference between painting and sculpting, but says he uses any medium that he can find useful in conveying his feelings. He does have a particular fondness for found art, which is the practice of turning bits of scrap metal and discarded objects into works of art.
"The thing I love most about found art is the element of surprise it evokes. You can take two pieces that are not related to each other in any way and bring them together to create a 'wow' effect."
Egbert believes the most common misconception about art is that it is about "pretty pictures".
"It can be found anywhere where creativity is. People use art to express themselves in everything they do, so art can be found in cooking, in clothing - even in public speaking. Art is everywhere."
"I want to challenge the belief that art as a subject is reserved for young people who are not performing well academically.
The aim of teaching art is to make students more creative and aware of their immediate environment. It doesn't matter where you end up in your career, whether you become an engineer or a scientist or a farm labourer – the more creative you are, the more intelligent you will be, and the better you can become at your job."
While Egbert believes that some people are innately more artistically talented than others, he says it is vital that from an early age, children are given art education to develop what is known as dexterity, an essential motor skill.
"Even if you are not very dexterous, you can still learn to become more creative, so it is very important to understand the necessity of art in education."
"All these works you see here," he points to the paintings hanging on the walls around us, "are the results of the creative processes and emotions I was going through at the time. It's not just about what you see instantly."
"When a viewer sees a piece, he forms an opinion about it. He either likes or dislikes it, but it means he has developed an awareness about the message the artist has tried to convey."
The function of art in society is to make communities more aware of the issues that affect them, he says, and he thinks that controversy in art is not necessarily a bad thing, as the aim is to get people to open up a dialogue with one another.
"Art is meant to arouse debate. If they respond and talk about it, that's positive. When a people become more aware, they are bound to make more progress," he says, expressing the wish that the ministry responsible for arts and culture would open a national art gallery to encourage this very process.
After his current commission work has been completed, Egbert says he will take some time out to plan his next collection.
Many of his pieces have a strong African flavour, at times touching on the poverty, suffering and slavery of African people, which he says forms an important portion of Seychelles' heritage. He says he would love to research this further, but laments a lack of historical archive information about this period in the country's history.
"We are part of Africa. Physically, most Seychellois seem to have African ethnicity," he says, explaining that although he has a diverse ethnic background, including Portuguese, Chinese, Indian and Irish blood, one of his ancestors was an African slave named Frederick, with only a number for a surname.
"The African continent has made a significant contribution to the development of art history," he ends off. "My theme of work as a whole is life. I try to paint the souls of people and capture their expressions of hope, joy, pain and despair. It's about depicting raw human emotion and life situations."
By Hajira Amla