Cathrina Freminot to attend climate activist summit
26-June-2013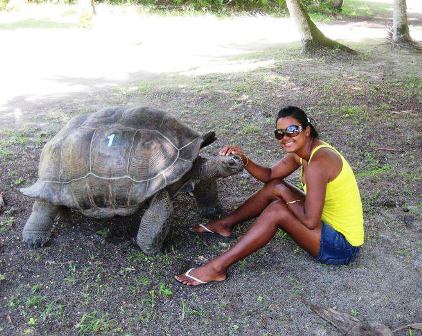 Out of the thousands of young people from all over the world who applied to attend the Global Power Shift Summit, 500 were selected from 133 different countries.
Cathrina, 22, is the youth representative on the board of directors of non-government organisation (NGO) Sustainability for Seychelles (S4S), and vice-chairperson of another newer environmental NGO, Eko-Youth Seychelles. Cathrina also works for the Green Island Foundation.
The five-day summit will showcase the strategies and tactics behind many of the most successful social movements and campaigns of the last few years.
During the summit, youth activists will share organising strategies, learn about innovative online tools, map out new climate campaigns, and hear from environmental leaders and activists from around the world.
After the summit in Istanbul, those taking part will return to their home countries to help organise national Power Shift summits, mobilisations, and other climate campaigns.
Upon her return, Cathrina will work particularly closely with S4S to help implement activities that are part of its climate change education programme funded by the European Union and the government of Seychelles.
"I'm really looking forward to this experience," said Cathrina.
"I want to learn more about climate change so that when I come back I can share what I have learned with others in Seychelles. I have already been in touch with the other participants from the Indian Ocean islands and we are planning a regional campaign on climate change targeting youth especially. I hope to work closely with S4S and other local organisations on this campaign."
Global Power Shift is being organised by the international climate campaign organisation 350.org, with support from partner organisations Avaaz, Greenpeace, Friends of the Earth, the Global Campaign to Demand Climate Justice, and others. 350.org is named after 350 parts per million, what many scientists consider is the safe upper limit of carbon dioxide in the atmosphere.
Here in Seychelles, S4S has been the local hub for the organisation of several 350.org coordinated global events in past years, including a candlelight vigil and flash rally in Victoria in 2011, and a moutia to lament coastal erosion in 2012 on the beach at Mare Anglaise.