Senior education officials meet A-Level students
26-June-2013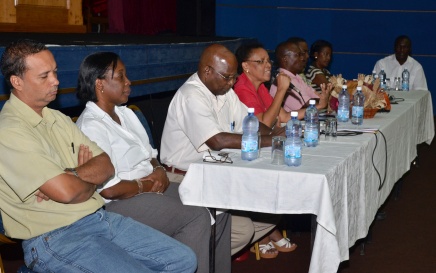 Mrs Delcy (4th from left) addressing the students

The meeting with Sals students is the first in a series of meetings planned for this year and it was organised in the context of the ministry's ongoing effort to remain connected with teachers, students and parents.
Several issues were discussed including the students' responsibility towards their studies, students' attitude and behaviour as well as new projects for the upgrading of infrastructure at the school to enhance teaching and learning.
Overall, the meeting was held in a frank and cordial atmosphere where pertinent concerns of the students and staff were addressed by the ministry officials so as to clarify their doubts as well as offer advice on several issues.
The meeting was chaired by principal secretary Merida Delcy assisted by the special advisor to the Minister, Selby Dora; advisor to the Minister, Christian Cafrine; coordinator for Technical and Further Education, Jean Alcindor; and the management of Sals.