Vijay T-20 cricket league 2013 -Easy wins for 777 and Lakstars
27-June-2013
Vigenesh scored 30 runs before he was trapped leg before in the bowling of Shiva. Shanjad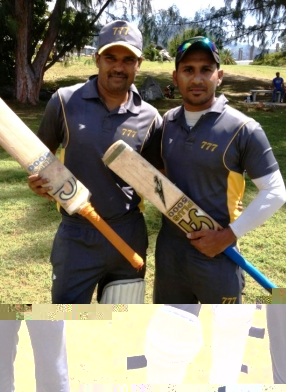 got rid of Gaurav cheaply, then Shiva Kumar joined Suranga and took the attack, and the pair added runs very quickly for 777.
Later Suranga got out for 50 runs (4x4, 4x6) in the bowling of Pradeep. Then Shiva kumar took the charge and played some big shots all around the field. In the end, he was unbeaten on 66 runs, with the help of four boundaries and six sixes which helped 777 post their highest total of the tournament – 188 for 5 in 20 overs.
Pradeep took 2 wickets for Aarjay.
In reply, Aarjay lost three quick wickets. Jai took two and Suranga got one. From there, Aarjay were not in the chase, they lost wickets in regular interval.
A late flourish from Gaurang Patel gave some respect to Aarjay's total as he was unbeaten on 22. 777 bowlers shared the wickets – Shabeer took 3, while Gaurav and Jai shared four.
Aarjay bundled out for 73 runs in the 16th over.
Summary: 777 – 188 for 5 in 20 overs (Shiva Kumar 66 N O, Suranga 50, Pradeep 2 for 20) beat to Aarjay – 73 all out (Gawrang 22, Shabeer 3 for 12, Jai 2 for 15, Gaurav 2 for 0)

Lakstars v/s Young Stars
Lakstars, who chose to bat, lost opener Aruna quickly for 0 and then Nilan for 5 runs, both wickets were shared by Dharmesh and Sachin.
Then Sohan joined opener Janaka and added 45 runs for the 3rd wicket. Janaka scored 24 runs before he got out in the bowling of Arka. Then captain Thusitha and Sohan added 40 runs for the 5th wicket, scoring 27 runs and 40 runs respectively. Sugath's late power-hitting took Lakstars' total to 145 runs. Sugath remained unbeaten on 22 runs.
In reply, Young Stars lost openers Rangan and Mohit cheaply. Milind and Dharmesh added 16 for the 3rd wicket, but both got out in quick succession. The only batsman who stood against Lakstars was Anthony, scoring 31 runs before he was caught out in the bowling of Sugath. Janaka took 3 wickets for Lakstars. Young Stars finished their chase at 106 runs for 7 in 20 overs.
Summary: Lakstars – 145 for 7 in 20 overs (Sohan 40, Thusitha 27, Sachin 2 for 24) beat Young Stars – 106 for 7 in 20 overs (Antony 31, Janaka 3 for 17)

HK for Seychelles Cricket Association