Learning through play becomes a reality at Anse Boileau primary
28-June-2013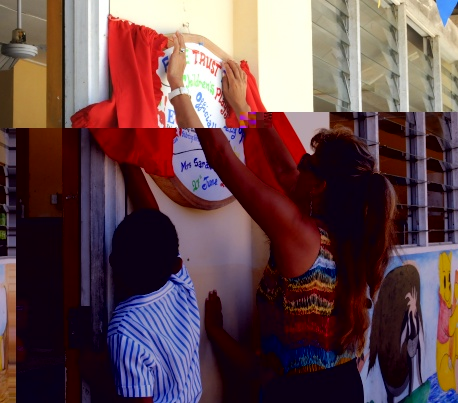 Ms René, who is the school council chairperson at Anse Boileau primary, yesterday officially opened a new playground and unveiled a plaque to commemorate the occasion.
The brightly-coloured playground equipment was funded by the Early Childhood Care & Education (ECCE) trust fund, and many parents also contributed to the landscaping of the new play area and helped the school in painting beautiful murals on the surrounding walls of the crèche.
Head teacher Milena Richard said it was hoped that the plants which were planted around the play equipment would create a more favourable environment for the children to develop in.
"I hope that you children will play well with your friends and take good care of the garden," said Ms Richard to the assembled children.
The audience was treated to songs and poems by some of the children, and prizes for the National Day poem competition were given out. A group of little children dressed as their favourite fairy tale and cartoon characters asked the audience to guess who they were, to the amusement of the crowd.
"Research has shown that when we laugh, there is a chemical that gets released in the brain which makes us happy," said Ms René. "This entertainment we saw today by the children was not a big thing, but it made us laugh, and we must remember that when children laugh it helps them to learn better."
Ms René said it was important to realise that education was not just about making children do their studies, but rather about helping children to develop in different ways by using different methods of teaching, including learning through play.
A brightly-coloured plaque, which was painstakingly made by the father of one of the pupils, was then unveiled by Ms René, after which the playground was blessed by Catholic Bishop Denis Wiehe.
The bishop echoed Ms René's call to develop all facets of children's development, advocating a focus on spiritual development and physical exercise, which he said would help children to grow up healthy and strong.
A group of schoolchildren ended off the ceremony with a charming vote of thanks:
"On behalf of the school management and all of us, we would like to thank you for your contribution towards this new playground. This playground will help us to enjoy ourselves. Your caring support for children will make a great difference in our lives. Once again, thank you very much."