Sri Lanka thanks Seychelles for IOC membership support
01-July-2013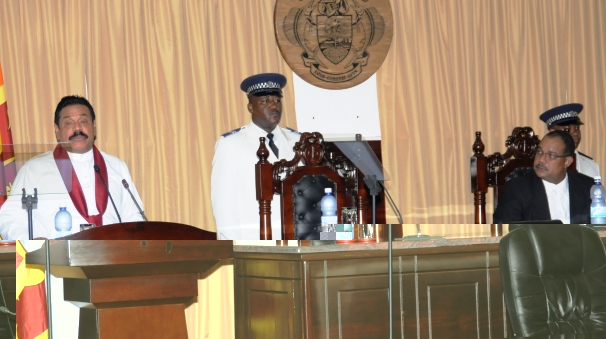 "Island nations can play a critical role in regional and international politics as well."
He said the Indian Ocean Commission, of which Seychelles is a member, is one organisation that countries of the Indian Ocean should use to discuss their issues and forge a common approach to tap the resources of the ocean.
Mr Rajapaksa made these remarks while addressing an extraordinary session of the National Assembly yesterday afternoon.
Mr Rajapaksa was welcomed in the Assembly by Speaker Patrick Herminie.
The leader of government business Marie-Antoinette Rose and leader of the opposition David Pierre also warmly welcomed Mr Rajapaksa.
Addressing the Assembly Mr Rajapaksa said Seychelles and Sri Lanka share many commonalities such as their identity as developing nations, their colonial pasts and views on international issues and most important their common heritage in the Indian Ocean which is their legacy.
Mr Rajapaksa said as island nations both of our countries face challenges to the environment, are exposed to natural disasters, limited market and high dependence on marine and coastal resources but noted however that both countries have a vast pool of resources in the Indian Ocean.
Sri Lanka is also committed to preserving its environment and is sensitive to the repercussions of global warming and is committed to policies to reduce production of greenhouse gases.
At this point he stressed that countries which have inherited the rights of this ocean's resources must get together to embark on a common approach to harness its potential for the benefit of our peoples.
Highlighting the ancestral connection of Sri Lanka to Africa, Mr Rajapaksa touched on the historic first large-scale Asian-African or Afro-Asian Conference -- also known as the Bandung Conference of newly independent states which took place on April 18–24, 1955 in Bandung, Indonesia -- as marking a very significant turning point in Asian-African relations.
"The conference in which Sri Lanka played a leading role, brought Asia and Africa to work together for the betterment of 1.5 billion people living in the 29 countries which took part in the conference," he said.
He added that the conference also marked a watershed in Sri Lanka's modern relations with the African continent as it started establishing diplomatic relations with African nations following the conference.
He further noted that in 1976 when Sri Lanka hosted the 5th Non-Align Summit, his country also had the opportunity to closely interact and strengthen relations with many African leaders.
He said with his ascension to the presidency in 2005, the foreign policy of Sri Lanka took a new course.
"We were able to rediscover our old friendship and affinities with Africa," said Mr Rajapaksa.
"My addressing this Assembly today is a clear manifestation of that timely foreign policy reorientation," he said.
He said Africa's relentless struggle against colonialism and the charismatic great leaders who led the struggle for independence have left an indelible mark in the minds of the people of Sri Lanka and have contributed in moulding the Sri Lankan political landscape and its thinking.
Speaking about the modern day international relations, Mr Rajapaksa said he believes these are marred by self-interest and struggle for power.
He added that "the very colonialism that we had fought and freed ourselves from a few decades ago is making a comeback in a different form in today's global scenario".
He said new power blocks are emerging and states are intervening in the affairs of other states using their strength and the past seems to be resurfacing.
"The threats from these developments will be harmful to small nations like ours as our independence and sovereignty are at risks and we should get together to, as we have done in the past, face these challenges," he said.
He stressed on the need for cooperation between Asia and Africa to prevent attempts of intervention in the internal affairs of developing nations.
Referring to the present trade patterns, President Rajapaksa said these call for a stronger need for developing states to do more trade together to achieve prosperity for us all.
He noted that after decades of civil war his country is now enjoying peace and stability, having taken concrete steps to rid the country of the threat of terrorism and develop it into a regional hub in five strategic areas namely knowledge, commerce, naval and maritime, aviation and energy.
He said post conflict challenges remains and his country counts on the continued support and understanding of friendly nations like Seychelles and notes that the best assistance the international community can offer his country at this time in its reconciliation process is to provide the required time, space and encouragement to the government.
He noted that from all the visits he has received from foreign leaders, the one from President James Michel last year was the most productive and his visit here today further strengthens the bold initiative taken by President Michel.
He expressed the desire for the two countries to work closer together to promote regional economy and for increased exchanges between the two parliaments.
He said it was a pleasure and honour to be among friends from an island nation who share common aspirations with his own country and he expressed appreciation to the warm welcome reserved for him and his delegation.
The Speaker of the National Assembly, Dr Patrick Herminie, also met President Rajapaksa individually where they held discussions on the bilateral relations of the two countries.
During the brief meeting, both the Speaker and President Rajapaksa expressed the desire to see an increase in relations at the parliamentary level especially with regard to the exchange of expertise and training of staff.