Business forum highlights Seychelles-Sri Lankan ties
02-July-2013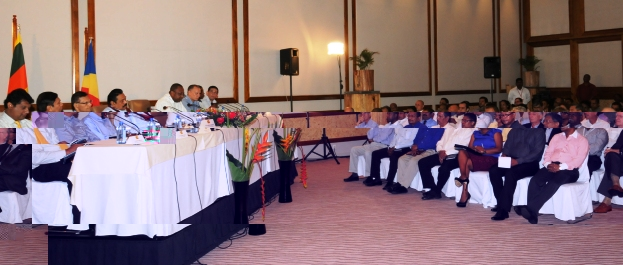 The business forum, which took place in the luxurious setting of the Kempinski Hotel conference centre in Baie Lazare, was attended by a number of dignitaries and stakeholders from both countries, who called on business leaders to make the most of any opportunities to collaborate with their Sri Lankan counterparts.

The Minister for Natural Resources and Industry, Peter Sinon, said that a number of landmark activities had taken place to intensify the long-standing cooperation between Seychelles and Sri Lanka.
The anticipated Bilateral Investment Protection Agreement (BIPA), Double Taxation Agreement (DTA) and direct air connection, all due to be realised in the fourth quarter of this year, are all designed to intensify Seychelles-Sri-Lankan bilateral cooperation.
Mr Sinon said that the Bank of Ceylon was considering opening a branch in Seychelles and had committed to extending a US $10 million line of credit for the development of the blue economy in terms of financing the fisheries and aquaculture sectors.
Indicating that Seychelles would support Sri Lanka's bid to join the Indian Ocean Commission, Mr Sinon said the two nations should increasingly look to claim ownership of resources that had hitherto been underdeveloped.
"Seychelles and Sri Lanka stand poised to become one of the most efficient gateways to Africa and Asia," he said. "As the Indian Ocean geo-strategically emerges as a centre of gravity for all major world powers, our respective interconnectivity roles are enhanced."
"It is said that the best time to plant a tree is 20 years ago," said Mr Sinon. "The second best time is right now. Seychelles and Sri Lanka already planted our tree 25 years ago in establishing relations. Now we are jointly in the business of nurturing it to grow."
Sri Lanka's Minister for External Affairs, Gamini Lakshman Peiris, said that it had been the Sri Lankan government's policy to place a "very sharp" focus on developing a vibrant relationship with the African continent.
"Sri Lanka has just emerged from a quarter-century long conflict, and if you were to visit Sri Lanka today, you would discover among our people a sense of euphoria and great hope for the future," said Professor Peiris. "This is why we are eager to embrace Seychelles as a partner as well as a tried and tested friend."
Professor Peiris went on to say that the two countries had "exemplary relations" in terms of follow-through. He explained that he believed the real strength of the relationship lay in the determination to implement agreements made in bilateral talks, and said very substantial progress had been made since the visit of President James Michel to Sri Lanka in August last year.
The principal secretary for Finance and Trade, Steve Fanny, welcomed the prospect of the Bank of Ceylon entering into the Seychelles commercial banking sector, saying the banking industry needed a lot more competition.
"Banks in Seychelles have a lot of liquidity, and financially are in better positions than many of their European counterparts," he said. "However, when it comes to providing credit, banks in Seychelles are not that forthcoming."
The chairperson of the Seychelles Chamber of Commerce and Industry (SCCI), Marco Francis, said that Seychelles was at a crossroads in its development.
"To progress, we must continue to find new and innovative ways to connect our business communities and create more opportunities that can create additional wealth and prosperity for our peoples," he said.
Mr Francis announced that the SCCI and the National Chamber of Commerce of Sri Lanka had initiated discussions last year to establish a formal relationship for future collaboration; a move which is hoped will increase exchanges between the two business communities and as a result trade between the two countries.
Under the memorandum of understanding which will soon be signed between the two chambers, the two business communities are expected to benefit from joint business forums to promote each other's opportunities and build capacity where skills could be shared.
There were a number of opportunities that Mr Francis identified as possibilities to further build the relationship between Seychelles and Sri Lanka.
"Opportunities for cooperation also exist in the tourism and leisure sector, attracting more fishing fleets and value addition in the fishing sector, high tech farming in the Agricultural sector, ICT, oil exploration and maritime related services among others," said Mr Francis.
Members of the Sri Lankan business delegation were requested to visit the SCCI for more information on investment and business opportunities.