Zones 3 and 4 schools reward top performers
13-July-2013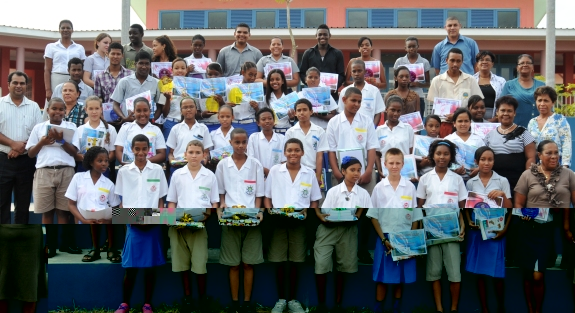 The students from zone three came from Plaisance secondary, School for the Exceptional Child, Plaisance primary, Cascade primary, Pointe Larue primary, Pointe Larue secondary, Anse Aux Pins primary and Au Cap primary schools.
Zone four students came from La Misère, Bel Eau, Mont Fleuri, La Retraite and Anse Etoile primary schools. Mont Fleuri and English River secondary schools also fall in this zone.
They have been rewarded for their outstanding performance in the primary six national examinations, International General Certificate of Secondary Education, Diplôme d'études en langue française.
Students from the School for the Exceptional Child were rewarded for the completion of schooling.
The ceremony for the zone four was held at the Perseverance school and was attended by member of the National Assembly for Mont Fleuri Beguitta Jeannevol, director general for schools Odile Octave, director for primary schools Cyril Pillay, district administrators, headteachers, teachers and parents.
In her address, the head of Mont Fleuri primary Marie-Therese Elizabeth said the award ceremony marks a milestone in the education of these students.
She added that the awards will serve as a motivation for the students.
Mrs Elizabeth urged them to remain focus in their studies.
Addressing the students and others present at the zone three ceremony held at the Roche Caiman community centre, Plaisance primary's head Sabrina Agathine said the good results do not only bring personal achievements but it also contributes to our country's development.
She urged them not to forget to show gratitude towards those who have encouraged and supported them throughout their studies.