Paralympic-Seychelles' first Paralympic association launched
15-July-2013

A large crowd gathered at the National Sports Council (NSC) hall on Saturday morning to support their families and friends during the launch ceremony which also coincided with the National Day for the Disabled.
Under the theme Nou annan abilite, donn nou loportinite, the day began with a mass celebrated by Father Colin and Reverend Christine, before the launch of the association got underway.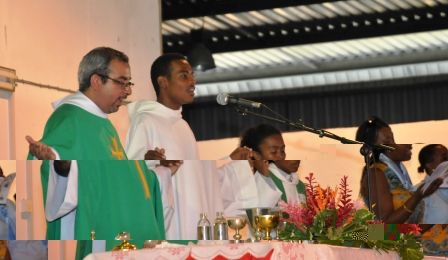 Airtel once again showed its commitment to sports in Seychelles as it was the main sponsor of the occasion. Airtel country manager Vikram Sinha said Airtel is always happy to help the community and develop sports further.
Social Affairs, Community Development and Sports Minister Vincent Meriton said that the disabled athletes have managed to make Seychelles' flag fly high in international competitions by winning gold medals and therefore should continue to be encouraged to continue making Seychelles proud in the future.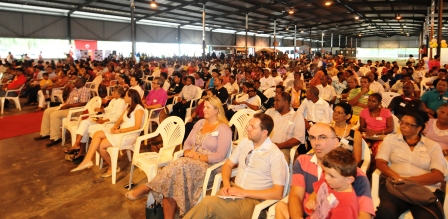 Also present was British high commissioner Lindsay Skoll who said: "Sport can be transformative. It can encourage, elevate and inspire. It teaches us the value of hard work, the importance of team work, the thrill of victory and, unfortunately, the humility of defeat."
She also praised the hard work being done by the Ministry for Social Affairs, Community Development and Sports in inspiring the disabled athletes.
Youth principal secretary Alain Volcère, community development and sports principal secretary Denis Rose, Bishop French Chang-Him, Miss Seychelles … Another World 2013 Agnes Gerry, former First Lady Sarah Rene, and NSC chief executive Giovanna Rousseau were among those present at the ceremony.
The day also featured an exhibition as well as sports activities.
Mr Volcère heads the committee as chairman, with Patricia Rene as vice-chairperson. Pookhothai Pillay is the treasurer and Fiona Paulin the secretary. The seven ordinary members are Colin Quatre, Rolly Barbé, Francis Remie, Naddy Zialor, Rosie Corallie, Pierrette Beauchamp and Roshara Gonthier.
The national Paralympic technical committee members are Jean Vardin, Garry Suzette, Vincent Cedras, Marie-Alice Barra, Sandrine Barra, Terry Volcère and Michelette César.
The following are some of the photos taken by our photographer Patrick Joubert during Saturday's launch.

S. N.